Drunk As A Skunk Alert! Train Wreck Tanning Mom Falls Over, Flashes Undies In Drag Club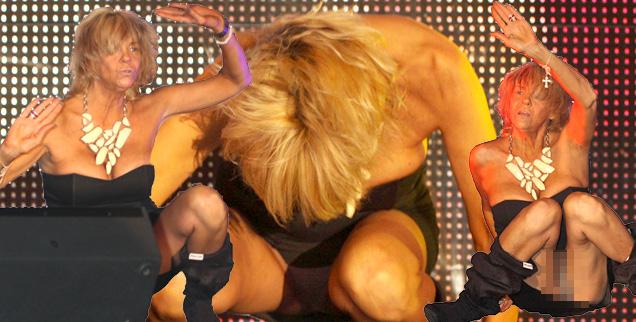 Can anyone say TOTAL TRAIN WRECK?!
The infamous Tanning Mom recently returned to the scene of her past drag bar crime -- once again in full disaster mode as she carried out pretty much a play by play repeat of her previous bad behavior -- and RadarOnline.com has the shocking photos of the 44-year-old's falling down drunk, panty flashing behavior!
Patricia Krentcil's outrageous antics were such a smash hit last time she appeared at the XL Nightclub in Manhattan, that they were quick to invite her back, and sure enough, once again she did not fail to entertain, with eyewitnesses describing her as being "stumbling drunk" and "incoherent" according to the New York Post .
Article continues below advertisement
However, it doesn't take eyewitness testimony to draw that conclusion -- it's more than evident from the shocking photos of the ridiculously bronze mom , clad in a tight and teeny black strapless dress, staggering and falling over on stage and flashing her pink undies to all and sundry.
And it got even worse!
The night ended on an even lower note for Patricia after she got into a "verbal altercation" with a lighting technician, according to the New York Post.