Teen Mom-Turned-Porn Star Farrah Abraham Keeps It Classy Again At Strip Club, Signs Dancer's Butt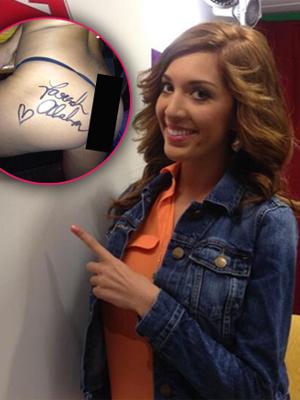 Teen Mom star Farrah Abraham may like to tell herself that she isn't a porn star, but it sure looks to us like she's making the crossover from MTV reality mom to sex industry siren in record time.
On Thursday night, she judged a pole dancing contest at Sunrise Gentlemen's Lounge in Patterson, N.J., and mingled with the club talent, tweeting, "I love #NewJersey!!!! So much fun tonight @46Lounge & @Sunrise see again soon!"
Article continues below advertisement
The 22-year-old also signed one of the stripper's rear ends, and posted a pic of the thonged derriere on her Twitter account, with the caption, "#StripClubTREND."
While Farrah can keep distancing herself from the sex trade, her schedule says otherwise, as her next stop on the promotional tour for her sex tape, Farrah Superstar: Backdoor Teen Mom, is Sin City. She'll appear this weekend at the Sapphire Strip Club in Las Vegas, as well as hosting a pool party Friday.