Exclusive
Farrah Abraham's Dad Slams Her Sex Tape Partner: 'He's Very Abusive'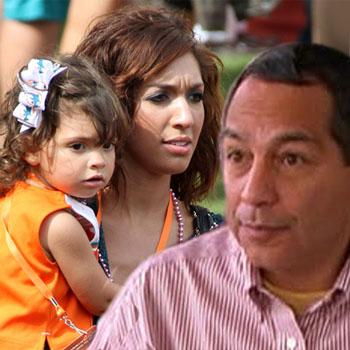 The devout Christian father of ex-Teen Mom turned sex tape star Farrah Abraham has slammed her co-star of the as yet unreleased X-rated flick, describing him as "very abusive."
In an interview with RadarOnline.com, Mike Abraham claimed porn star James Deen broke a non disclosure agreement which should have prevented him from granting interviews about his on-camera rendezvous with single mom Abraham, 21.
Article continues below advertisement
"I have a reputation of always supporting my daughter, but the one thing I do have a problem with -- what is wrong -- is when individuals make statements and claims that are not authorized," Mike told RadarOnline.com.
"I think there is no disregard for the individual, Farrah, or her family. I do not know the individual personally, but based on information I do know, he is exhibiting very abusive behavior.
"If somebody wants to do something in private, in that it is not to be made public, it should be respected. Let's be adults about this."
The "abusive" behavior, according to Mike, was a series of interviews Deen, 27, granted to various media outlets in which he described the sex with Abraham as "very amazingly awesome."
"I thought she was very nice and super sexy. I had never heard of her before, as I don't follow pop culture, but it is nice to see that her fame has not gone to her head," he told The Sun.
Article continues below advertisement
But the bone of contention is a dispute between the Abrahams and Deen about how the tape was conceived.
Mike insisted the tape was always meant for private use only, but according to Deen, it was Abraham who concocted a plot to have a "leaked" sex tape!
"Everybody's trying to make it this story, but really Farrah wanted to make a sex tape," Deen said.
When questioned about his claim as to whether Deen's interviews amounted to "abuse," Mike fired back: "People try to make up stories for their own interest and that is what it looks like Mr. Deen is doing. He sounds like an opportunist to me."
He added, "There were no permissions for that person to make those statements.
"We are a pretty close family, thick skinned. Farrah has told us that this was not a public thing, therefore Mr. Deen's statements were not authorized to be made.
"I am shocked he is making these statements, like he is our family, which he is not. Like he had a relationship with Farrah, which he did not.
"Let's put it this way, the facts will come out. I know where my daughter's heart is. She is an adult who can make her own decisions and choices.
"I am not judgmental because I know, just like everything else, there are usually more false claims than what is truth... I am a man of God. Religion does not get you into heaven, but faith does."