Farrah Abraham Shows Off Her New Boobs At Vegas Pool Party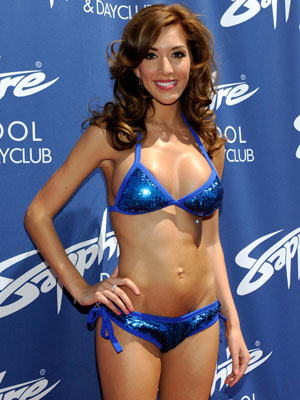 Farrah Abraham is putting her new breast implants to work.
The Teen Mom turned porn star hosted a party Friday at the Sapphire Pool & Day Club in Las Vegas, and she wore a sparkly blue bikini that only barely kept those newly enlarged girls covered up.
As RadarOnline.com previously reported, Abraham went from C-cup saline breast implants to D-cup silicone ones on May 31.
It was the fourth plastic surgery procedure for the Farrah Superstar: Backdoor Teen Mom star. But she insists she looks all "natural" to everyone who sees her.
Article continues below advertisement
Following the Kim Kardashian playbook, Farrah went from sex tape star to making truckloads of cash by hosting parties at clubs.
The 22-year-old single mom is in Houston Saturday night.