XXX 'Teen Mom' Farrah Abraham Gets Another Boob Job, Upgrades To A D-Cup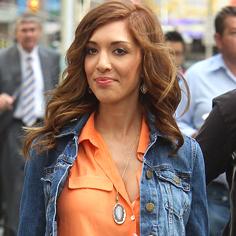 Teen Mom star Farrah Abraham already has a porn tape, Farrah Superstar: Backdoor Teen Mom, under her belt -- and now she has made some physical changes to fit her new porn-star role even better.
On May 31, the 22-year-old reality star — who is also the mother to 4-year-old daughter Sophia — underwent the knife again to upgrade her C-Cup saline breast implants to brand new, D-cup silicone ones. This was her fourth time to get plastic surgery in less than three years!
Article continues below advertisement
"I don't think I've done too much surgery at a young age," Farrah tells In Touch Weekly. "If someone wants to walk around with bags under their eyes, that's fine. But personally, I want to look my best. And I'm looking amazing."
Farrah has spent nearly $30,000 on plastic surgery so far on a nose job, a chin implant, and two breast augmentations and she isn't against getting more work done.
"There's definitely some pain, but that's expected," Farrah says. "But what if I have a freak accident and I need something fixed, or if age gets to me, or I have more children and want a 'mommy makeover?'"
But Farrah does say that she doesn't want "porn-star" breasts, even though she is a porn-star and is now rocking a D-cup.
"I would not get boob implants that were porn-star status," she says. "I'm realistic about keeping myself looking natural."
She adds, "No one who meets me thinks I've had plastic surgery. I don't look fake."
Still, despite looking "amazing" and "natural," all of Farrah's changes have yet to help her find a boyfriend.
"It's sad, because I don't have a boyfriend," she says. "Obviously, I look good. And when I see a hot guy and he's dating an ugly girl, I'm like, 'Damn, all that goodness is going to waste.'"
Farrah says, "My goodness is going to waste because I don't have anyone to spend it with."