Lea Michele's Agony: She's Questioning Cory Monteith's Friends About His Final Days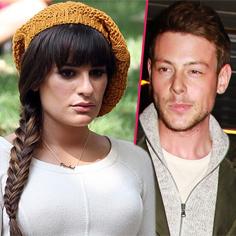 Lea Michele is reaching out to friends of her late love Cory Monteith, trying to learn exactly what triggered his relapse into drug abuse that led to his fatal overdose of alcohol and heroin July 13.
"Lea is trying to talk to the people who last saw him," an insider tells US Weekly. "She wants to know what happened, she wants to understand."
As we previously reported, when Monteith entered a rehab facility this past spring, Lea stood behind her boyfriend, saying, "I love and support Cory and will stand by him through this and I am grateful and proud he made this decision."
Article continues below advertisement
A source told the magazine that "Lea long knew about Cory's drug problems and was always pushing him to get help, as she believed he'd be unstoppable if he could beat his demons."
Lea, who dated Cory for 14 months, "hasn't been in communication with a lot of people" -- including her Glee co-stars, an insider said. The source added that her castmates are among those who are respectfully giving her space at this time, as "they know that she needs to be by herself."
The insider said that Michele's "only talking to a few confidantes" during this rough time, as she's overwhelmed with grief and "in no state to be seen in public."
"She's destroyed, completely devastated," the insider said. "She's a wreck. There are so many emotions."
Compounding the tragic and premature loss for Lea are the plans she and Cory had moving forward in their relationship.
"They were going to move in together when he got back from Vancouver, and she got back from a vacation in Mexico," Monteith's cousin Richard told Life&Style. "He was supposed to check out of the hotel and head back they day they found his body.
"I guess marriage would have been the next step."
As we previously reported, Monteith, who played the role of Finn Hudson on the Fox hit, was found dead at 31 July 13 in a room at Vancouver, British Columbia's Fairmont Pacific Rim Hotel. The British Columbia coroner's office subsequently confirmed the embattled actor's life ended as result of a toxic mix of of heroin and alcohol.