Exclusive
Jodi Arias' Murder Alibi Ryan Burns Says, 'If Anyone Deserves The Death Penalty, It's Her'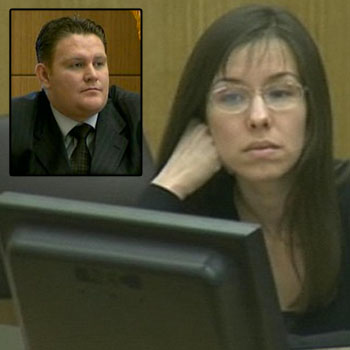 Once hoping to spark a romance with the pretty brunette who he met at a business conference, Ryan Burns was an innocent pawn in Jodi Arias' sinister plot to butcher Travis Alexander when she used him as an alibi, and now her former love interest thinks that she deserves the death penalty for the gruesome crime.
"The verdict was shocking but expected, and I feel like justice was served," Burns, the man who the now convicted-murderer drove to Utah to visit immediately after slaying the fellow Mormon in his Arizona home, told RadarOnline.com in an exclusive interview.
Article continues below advertisement
Having been found guilty of first-degree murder on Wednesday, Jodi now faces the penalty phase where the same jury will return to the Maricopa County Court to decide if she lives or dies, and Burns said he approves if they sentence her to execution by lethal injection after he saw shocking images of the brutal way she slashed up Alexander.
"You hear 29 stab wounds, you hear slicing the throat, you hear the shot in the head, and it sounds horrible…but at some point a friend of mine was at my house and had crime scene photos on his computer and he just turned the screen and I saw everything," Burns revealed with his voice still shaking from the horror. "I think from that point forward, I thought 'Wow...'
"I had always said she didn't deserve the death penalty — I said she deserved murder one and whatever they decide the penalty to be — but when I saw that I had to admit that it took away a lot of the remorse I had for someone I thought was a friend until I found out who she really was," he explained.
"It is crazy to contemplate your thoughts on the death penalty, but if anyone does deserve it then she certainly does," he said, adding that it will be justice "if she gets death."
Article continues below advertisement
If the jury opts against the harsh punishment, they have the choice of life in prison without parole, or a minimum of 25 years with the option of parole, and Burns thinks spending the rest of her days behind bars "either way is right."
He went on to explain to RadarOnline.com how he unwittingly got lured into the femme fatale killer's twisted world that would five years later catapult him onto the witness stand to testify on behalf of the prosecution during her marathon murder trial.
"I met her for five minutes in Oklahoma in March 2008 and then we talked for about a six weeks and became very good friends," he said. "I was interested in her – she seemed like a very interesting person, she seemed intelligent, fun to talk to, she was a beautiful girl, and when I got her number we had a lot in common.
TWITTER SCREEN GRABS: Jodi Arias Tweets About Contemplating Suicide
"That was all I knew about her, those five minutes face-to-face and the world that she created for me and communicated over the phone for six weeks, then she came out here for one day."
Article continues below advertisement
That fateful day was directly after she killed Alexander, and Arias herself testified about how she dumped the knife she had used to stab him in the desert on the way, before snuggling in bed with Burns as they watched a movie together and passionately kissed.
"I feel like she used me. It is really crazy to go back and read through the conversations that we had to see how much of it was all manipulation and how much of it was a lie – it is really hard to even tell today," confessed Burns, who now knows that the entire 24-hour date was an elaborate and well-thought out ruse to fool the police.
"We chatted for three hours one night online just days after she stole the gun from her grandparents, and to think that she just been convicted of premeditation and part of that was evidenced by the .25 caliber gun that was stolen to kill Travis," he marveled.
"It is insane to think that the first thing she said then was, 'It is a go, I'm coming out to see you.' It is really crazy to think of that whole conversation and how much of that was a plan to kill him," he said, describing Arias as an "anomaly in a strange situation" when she swept into his quiet life.
Article continues below advertisement
When he heard that Alexander, who he knew from his work as a motivational speaker and through the Mormon church, had been found dead, he didn't immediately suspect Arias like many other friends who thought of her as an obsessive stalker – but that soon changed as details trickled out.
"I knew she probably had something to do with it when they stated the day that he died – they still didn't say how then – and I thought, 'That is the day she was missing' on the way to see me. Everyone else was jumping to that conclusion pretty early on and when the date came out I knew she probably had something to do with it."
His gut feeling was correct and like many people related to the case, Burns felt an intense feeling of relief when the guilty verdict was read on Wednesday.
"I just felt so happy for the family, God help them move on because this has been five years of unnecessary waiting, so I was just relieved for them," he said.
"It was justice – it is a strange feeling, being sad for someone you once thought was a friend and thought was a good person. So I feel sad, but the stronger feeling is that it was right and justice was served."
After the penalty phase in the bombshell case was unexpectedly canceled on Thursday just moments before it was scheduled to begin, it will now resume on Wednesday, May 10 at 10 a.m. PST/ 1 p.m. EST — and RadarOnline.com will be live streaming the proceedings.