Jodi Arias Verdict: Guilty Of First Degree Murder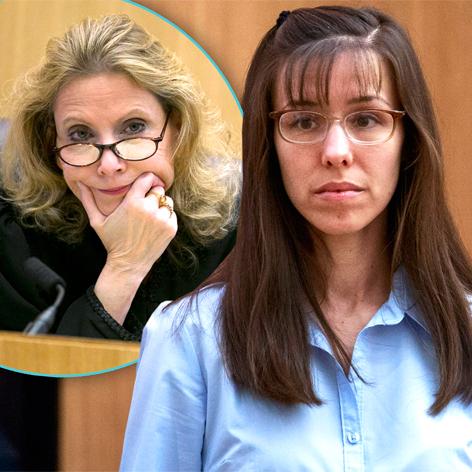 Jodi Arias has been found guilty of first degree murder in the gruesome death of her ex-lover Travis Alexander.
A jury of eight men and four women took slightly more than 15 hours to reach that verdict after four months of testimony that ranged from sexually graphic details about the one-time couple to grisly descriptions of Alexander's death.
Now Arias will fight for her life.
Arias' father – who has medical issues -- was not in the courtroom, but her mother, aunt and elderly grandmother who sat in a wheelchair clutching tissues, were all present.
Article continues below advertisement
Wearing a somber black suit, Arias was the last person to arrive into the courtroom, with three armed deputies assigned to her for protection.
As the verdict was read, Arias sat stone-faced showing little emotion before a look of shock took over. She kept licking her lips in disbelief as they read the conviction, with her nose reddening and tears beginning to well. Defense attorney Jennifer Willmott stood beside her client not showing her obvious disappointment in the loss of the groundbreaking case.
When the cameras panned the rest of the room, Travis' sister, Tanisha Sorenson, hugged family members and wept tears of joy.
Next in the controversial case is the penalty phase, as prosecutor Juan Martinez will seek the death penalty and if he is successful Arias will become the fourth woman on death row in Arizona. The state was second in the nation in executions in 2012 and Arias would die by lethal injection.
Article continues below advertisement
The sentencing phase will begin Thursday at 1 p.m. and the same 12 jurors will return to the courtroom.
TWITTER SCREEN GRABS: Jodi Arias Tweets About Contemplating Suicide
There will be opening and closing arguments by the defense and prosecution, evidence presented and more testimony, including Alexander's family making statements and a possible plea for her life made personally by Arias.
When the verdict was read in the Maricopa County Courtroom, there was an outpouring of emotion from Travis' sisters, who have sat quietly in court throughout the marathon trial, which cost tax payers at least $1.7 million as of late April to defend as attorneys on both sides argued whether it was premeditated murder or a spontaneous crime of passion and self-defense.
Outside the Phoenix courthouse, the anxious crowd of trial followers and fanatics that had gathered cheered in support of the guilty verdict that ended the nearly five-year nightmare for all those affected by the grisly murder.
"I am as happy as you can be after losing a friend but it is a huge sigh of relief for all of us who were friends with Travis," pal Jesse McPherson, who worked with Alexander at Pre-Paid Legal, told RadarOnline.com in an exclusive interview after hearing the verdict.
Article continues below advertisement
"I don't have any say as to whether she gets the death penalty or not, but I am happy that she has been found guilty for what she did," he said, before sending a heartfelt message to Travis' family: "We love you and we are sorry for your loss. May he rest in peace."
After the verdict was read on Wednesday afternoon, the attorney for Alexander's surviving siblings spoke in a press conference and announced they will be filing a civil wrongful death lawsuit against Arias.
"We appreciate the outpouring of support we have received from the public," attorney Jay Beckstead said.
"My firm will be filing a civil wrongful death lawsuit against the defendant in the future."
And although it was a unanimous verdict and all 12 jurors found that Arias was guilty of the premeditated murder of Alexander, the jury was split when it came to felony murder.
Five of the jurors voted for first-degree premeditated murder, while seven of them voted for both first-degree premeditated murder and felony murder.
As RadarOnline.com previously reported, Jodi pleaded self-defense in the June 4, 2008, killing of her former boyfriend, who was stabbed 29 times, had his throat slit and was shot in his Mesa, Ariz. home.
radar_embed service=5min.com src="http://pshared.5min.com/Scripts/PlayerSeed.js?sid=1126&width=570&height=351&playList=517773711&sequential=1&shuffle=0"