Exclusive
10 'Stalker Acts' Committed By Jodi Arias Against Travis Alexander: Slashed Tires, Email Hacking & Eavesdropping!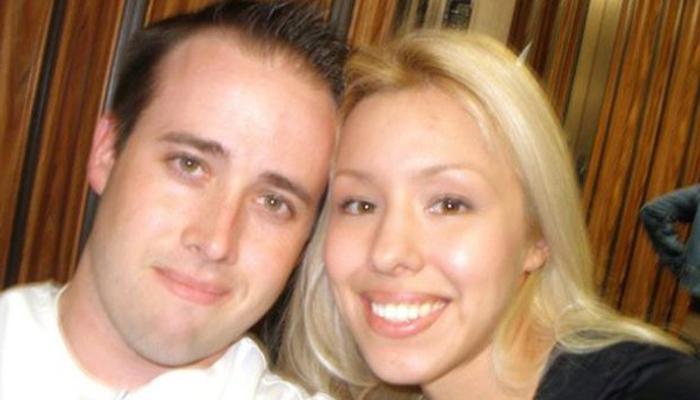 As she sits quietly in court with the face of an angel or crying in despair while crime scene photos are held up in court, it's easy for those watching the bombshell death row murder trial to forget that Jodi Arias violently butchered former boyfriend Travis Alexander.
However, in the mountain of evidence against her that has been revealed both inside and outside of the Maricopa County Court in Phoenix, Arizona are many disturbing details of her obsession that even prompted the defense team's domestic violence expert, Alyce LaViolette, to admit that the victim was afraid of Jodi because of "stalking behavior," and RadarOnline.com has compiled 10 of her outrageous acts.
Article continues below advertisement
1. Did She Slash His Tires?
Just four months before his death on June 4, 2008, Travis called the Mesa Police Department to make a complaint of "criminal damage" because the tires on his car were slashed.
The police report, which does not reveal who he suspected was responsible, will not be heard in court despite multiple witnesses referring to it during testimony in the four month-long trial and even in the initial 911 call reporting his death, reported ABC News.
|
|
"He has an ex-girlfriend who has been bothering him, following him and slashing tires and stuff. Things like that," friend Mimi Hall frantically told the dispatcher after Travis' bloody body was found.
2. She Eavesdropped On His Friends
It wasn't only Travis who Jodi skulked around. When she was staying with Chris and Sky Hughes, the couple was discussing Arias' strange behavior with Alexander one evening in their master bedroom and got the eerie sense they were being listened to. "Jodi was there, but she was downstairs in a different bedroom and sleeping," Chris told HLNTV.
Article continues below advertisement
"So we're talking for a couple hours and all of the sudden, my wife -- she's got a sixth sense about things – (whispered) 'Oh, my gosh – (Jodi is) out there. She's listening.'" Next came a knock at the door, and Jodi was there "asking if everything is OK."
When Arias left, Sky had the same sense that she was outside the door once again. This time, Alexander jumped off the bed, jerked the door open and there she stood. "We were so freaked out," said Hughes.
3. She Set Off His Burglar Alarm When He Was With Another Woman
Mimi Hall testified that Travis thought Jodi had followed him on a date, which was backed up by the "other woman." Lisa Daidone (now Andrews) told the court that in mid to late February 2008 "strange things were happening," when they were together. During one incident, a home security alarm alerted that a door had been opened but when the couple went to investigate they found nothing. "It was almost as if she knew we were together at the time," she testified.
Article continues below advertisement
4. His Friends Told Cops 'A Girl's Been Stalking Him'
When Travis' corpse was first discovered five days after his death, his friends immediately jumped to one conclusion when asked if he had been threatened.
"I immediately suspected Jodi and told the 911 people that I thought it was her," pal Taylor Searle, who can be heard in the background of the chilling tapes, told RadarOnline.com in an exclusive interview. "There's a girl that's been stalking him," Hall confirmed in the panicked audio footage.
5. She Gave Off 'A Bad Vibe'
Many of Travis' friends revealed they felt uncomfortable around Jodi, with former colleague Jesse Macpherson exclusively telling RadarOnline.com, "My wife didn't like her (Jodi) from the start, we always got an odd vibe like she was hiding something," he explained. "Her eyes were creepy and she was distant and didn't seem like she was totally present. It seemed like she put on a happy, pretty look, but on the inside wasn't really happy.
Article continues below advertisement
"Jodi always dressed for attention, every time I ever met her, and she got it for sure and is now relishing the spotlight," he went on to reveal. "She is enjoying the limelight and starring in her own movie – she loves taking the stage, and that's what it is for her in court."
6. She Acted Like She Lived At His House
Rather than relaxing like a guest when friends visited Travis' home, Jodi allegedly put on an act like she was the hostess, which Taylor Searle explained to RadarOnline.com saying, "When I first met her we were at his house on a Sunday evening, there were people over from the church and we were all making cookies," said Travis' former roommate. "She presented herself to me as 'his' woman and welcomed me to her house.
"To me – as someone who was very close friends with him – she was already trying to make claims on my buddy and I didn't even know her. It really rubbed me the wrong way," he complained. "There were always small nuances like this. I was put off by how she was."
7. She Treated His Death Like A 'PR Campaign'
Jodi didn't stop her obsessive mentality even after her former boyfriend was killed. "She immediately began posting all these photos and flooded his Facebook page with pictures of them and tried to position herself as his woman," explained Taylor. "It was a like a PR campaign.
Article continues below advertisement
"I was disgusted because I was certain it was her, then she showed up at his memorial acting distraught."
8. She Hacked His Email Account
Jodi admitted in court to accessing Travis' personal emails, and what she found was not to her liking! One series of flirtatious messages went to a married Mormon woman, Shannon Crabtree, with whom Arias thought he was acting "inappropriately."
"I was not having an affair with Travis! Jodi is a liar," Crabtree exclusively told RadarOnline.com. "I was going through a divorce from an alcoholic, an angry alcoholic, and Travis really helped me get through that. We never dated but we kissed one time. I was separated and by the time I got divorced he was dating someone else. I then married someone else and had babies. Travis wanted something more than I did in the relationship."
9. She Allegedly Sent Threatening Messages To Other His Girlfriends
Not only did Jodi send sick and twisted emails to Travis, she also allegedly penned bizarre messages to his ex-girlfriend, Lisa Andrews. "You are a shameful w**re. Your Heavenly Father must be deeply ashamed of the whoredoms you've committed with that insidious man," read the mystery message, according to a police report written by Mesa Police Dept. Det. Esteban Flores.
Article continues below advertisement
"If you let him stay in your bed one more time or even sleep under the same roof as him, you will be giving the appearance of evil. You are driving away the Holy Ghost, and you are wasting your time. You are also compromising your salvation and breaking your baptismal covenants… Your future, your salvations, and your posterity is resting on your choices and actions. You are a daughter of God, and you have been a shameful example."
10. She Called His Phone – Again And Again And Again
From countless calls, texts, emails and even handwritten letters – Jodi could never leave Travis in peace for long – even in death. Phone records presented by the prosecution revealed that the brunette bombshell not only phone-stalked him in the days leading up to his murder (calling up to 10 times), but most bizarrely, she rang him four more times after the time of his death at around 5:30 p.m. on June 4, 2008.
During her post-killing road trip to Utah she left a chilling message even though she knew his cold corpse lay in the shower.
"I figured that eventually his voice mails are going to be listened to and this would throw the scent off," she told the court during her testimony.
"I knew I had messed up pretty badly. I was very upset, I just wanted to die."
Be sure to follow us on Facebook and tweet us @Radar_Online.