Jodi Arias' Defense Attorney Gets Death Threats: 'We Will Find You, We Will Kill You'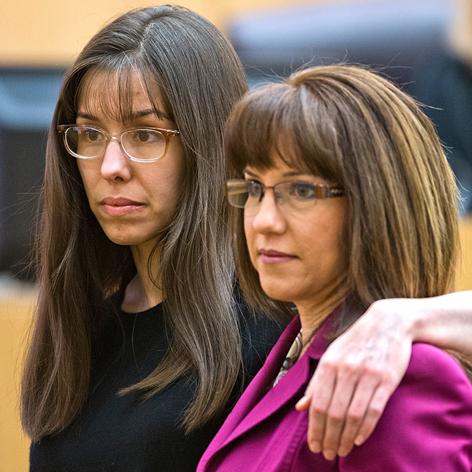 The attorney defending Jodi Arias is now fearing for her own life: she's receiving death threats for representing the accused murderer.
In a chilling voicemail, a sinister caller warned Phoenix, Arizona-based lawyer Jennifer Willmott: "You don't have to return my call, but I'm just telling you: If Jodi, if you get her off of the death penalty, we will find you. We know where you're at; we will kill you."
Article continues below advertisement
Arias is on trial for the brutal murder of her former boyfriend, Travis Alexander.
A transcript of the phone call, obtained by The Arizona Republic, goes on to reveal that the caller said, "I told Alyce the same thing, and we're tired, and we're sick and tired of you defending this person, and we will get you."
Last month, the Republic reported that domestic violence expert and defense witness Alyce LaViolette was hounded by phone, e-mail and over the Internet after her testimony, becoming the target of Twitter attacks and thousands of negative comments on the Amazon.com page for her self-help book.
A Maricopa County chief deputy sheriff said the Sheriff's Office looked into the threats against Willmott and confirmed that one of them came from out of state.
"It was not even credible," said Deputy Chief Jack MacIntyre, who added that Willmott didn't want to pursue prosecution and the investigation was closed.
The Long Beach Police Department in California is taking the harassment of LaViolette seriously, however -- especially because the public appearance schedule posted on her professional website makes her an easy target. Although LaViolette testified in another state, the case has been turned over to the department's Violent Crimes Unit and is being investigated as witness intimidation, revealed spokesperson Nancy Pratt.