Exclusive
Jodi Arias Domestic Violence Expert Accused Of Cashing In On Murder By Abuse Victims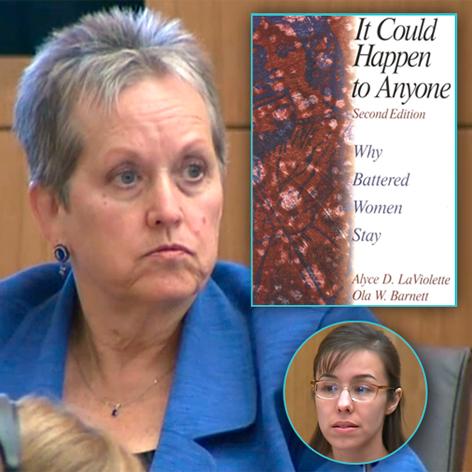 As the Jodi Arias murder trial enters its third month of seemingly endless testimony, the expert witnesses who dissect every text, e-mail and angry comment between the killer and victim Travis Alexander are getting fat pay checks for their time on the stand, RadarOnline.com is exclusively reporting.
Domestic violence expert Alyce LaViolette, who is reportedly being paid $300 an hour to testify, is using the high-profile case to promote her book, It Could Happen To Anyone: Why Battered Women Stay, which not-so coincidentally is being republished in its third edition on April 23 — just in time to profit from the publicity of the trial.
Article continues below advertisement
LaViolette's blatant cashing in on the grisly June 2008 death of Alexander has disgusted many genuine victims of domestic violence, who have accused her of "selling her soul to the devil."
"I am apalled that this so called expert is an advocate for battered women!" a domestic violence survivor told Radar. "I am highly insulted and offended by this woman, defending this killer and speaking for Travis as if she knew of him and talked to him."
And our critic is far from alone in her disgust of the book, which is described by publishers as "a unique amalgamation of the practical clinical experience of Alyce LaViolette and the extensive research of Ola Barnett on battered women and their batterers."
The reviews on Amazon.com have been flooded with haters and backlash, with furious comments including:
"I wouldn't spend 1 red cent for anything written by Alyce Laviolette. She has totally disgraced herself and every truly battered woman, which I am one. She has taken bits and pieces of emails and text messages and the word of a confessed LIAR. There is no forgiveness for that," wrote one furious victim in an open letter to publisher SAGE Publications.
Article continues below advertisement
"After reading the reviews of this book, and you are still considering buying it, please dial 911 because you seriously need help. Too bad that Amazon doesn't put a negative stars for us to choose."
Another disgruntled reviewer didn't hold back her venom either for the counselor-turned-author writing, "This woman should write a book about how to SCAM an entire community of vulnerable domestic abuse victims, then SELL them OUT for the most despicable and heinous cold-blooded killer, admitted liar, and a TRUE abuser."
Others accuse her of being "sucked in by one of the most infamous psychopaths of all time," of ruining her "chance of selling a single copy of your book, it has destroyed your credibility and any future career," and, "You have betrayed every TRUE victim of domestic violence. I don't know how you sleep at night."
Along with pushing the book back onto shelves, LaViolette is embarking on a speaking tour this month with dates booked all around California – with her obligations conveniently booked on Fridays and weekends when the Maricopa County Court is not in session.
Meanwhile, as the trial continues, stay with RadarOnline.com for regular updates and daily live-streaming.