'I Would Rather Die Sooner Than Later,' Says Convicted Murderer Jodi Arias In First Interview Since Guilty Verdict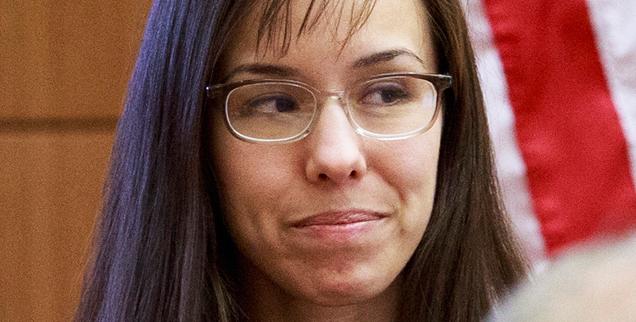 Just 20 minutes after the jury announced a verdict of first degree murder that could land Jodi Arias on death row, the now-convicted murderer opened up about the decision in an exclusive interview with FOX 10 News in Phoenix and RadarOnline.com has the footage.
Despite facing the possibility of death by lethal injection, the 32-year-old said that execution is not her greatest fear.
"The worst outcome for me would be natural life, I would rather die sooner rather than later," she revealed. "Longevity runs in my family and I don't want to spend the rest of my natural life in one place. I am pretty healthy, I don't smoke, and I would probably live a long time.
Article continues below advertisement
"I said years ago I'd rather get death than life and that still is true today. I believe death is the ultimate freedom, so I'd rather just have my freedom as soon as I can get it," she said, in an eerie statement so soon after being convicted of the cold-blooded murder of former boyfriend Travis Alexander.
"I don't know that I have a direct message for the jury. I prayed constantly for every single one of the them and that was the jury that was brought to me, that is the jury I was meant to have," said Arias.
"I think I just went blank... I just feel overwhelmed. I think I just need to take it a day at a time. It was unexpected for me. There was no premeditation on my part," she still claimed, speaking calmly and controlled in a holding cell below the Maricopa County Court.
"I didn't expect the premeditation. I could see maybe the felony murder because of how the law is written, but the whole time I was fairly confident that I wouldn't get premeditation."
Article continues below advertisement
When asked how she felt about some of the jurors not believing her story, she replied, "I can understand that I think, because of the lies that I told in the beginning," said Arias, seemingly to choose her words carefully. "To try to cover up this, cover up that. Hide things that I didn't want to be known."
Arias was then asked to give a message to the Alexander family, to which she stated, "I hope now that a verdict has been rendered they are able to find peace… some sense of peace. I don't think they will ever find the peace that they would like.
TWITTER SCREEN GRABS: Jodi Arias Tweets About Contemplating Suicide
"But maybe they will be able to find great peace now, or some semblance of it and move on with their lives and remember their brother the way they want to."
During her endless hours of testimony on the stand, Jodi went into verbal combat with prosecutor Juan Martinez and is now able to finally reveal her opinion of him, telling FOX 10: "Prior to trial I had respect for Juan," but said in the end it didn't go far for her case.
Article continues below advertisement
In hindsight, if she could do it all over again when she was in the desert with blood on her hands, Arias said she would, "Turn around and drive to the Mesa police department. I don't know (what would happen) but it would have been the right thing."
People from around the globe have expressed their hatred for Arias on social media and cheers of glee rang out outside the courtroom after the verdict was read, but she is still torn on what she believes the public opinion is of her.
"I get the sense that there is great division on both side but I believe the majority is against me… I hear things but I get no access to the news or Internet," she said.
New inmates come up and want to meet her, shake her hand and even get her autograph, said the criminal celebrity who seemed to relish her time in the spotlight during the four month trial.
"She was shaken and crying, she knows she is not well liked and even hated by people all over the world," revealed FOX 10's Troy Hayden, who talked to the femme fatale killer for 45 minutes. When he asked if she gets a lengthy sentence how she will spend her life, "I haven't decided yet," she sobbed.
After the interview with Troy, Jodi Arias was moved into the psych ward for 24-hour suicide watch. The sentencing phase will begin Thursday at 1 p.m. and the same jury of eight men and four women will return to the Phoenix courtroom to decide if she gets the death penalty.
radar_embed service=youtube src="https://www.youtube.com/embed/s4YpjTbmIJI" width="560" height="315"