Exclusive
What's Next? Jodi Arias Trial Watcher, Attorney Mark Eiglarsh Explains The Penalty Phase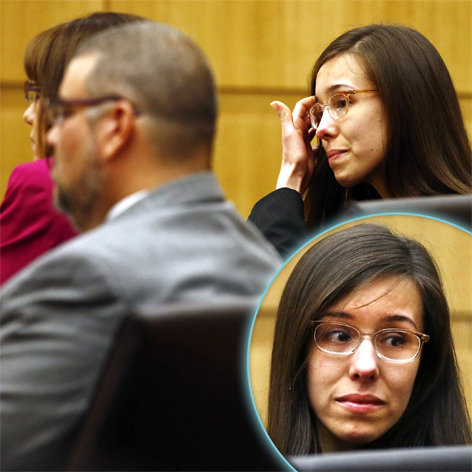 UPDATE: The penalty phase in the Jodi Arias case was unexpectedly canceled on Thursday just moments before it was scheduled to begin as the family members and trial watchers were already seated in the courtroom. It will now resume on Wednesday, May 10 at 10 am PST/ 1 pm EST - and RadarOnline.com is once again live streaming the proceedings. The story is developing.
The Jodi Arias case now moves directly into the penalty phase, after a jury found her guilty of first-degree murder in the slaying of her ex-boyfriend.
Article continues below advertisement
Former prosecutor and criminal defense lawyer Mark Eiglarsh explains to RadarOnline.com what happens next - how the same eight male and four female jurors will determine whether the 32-year-old deserves to be condemned to death by lethal injection. He writes:
THE first part is the aggravation phase and that is when the prosecution has to prove to the jury beyond a reasonable doubt that this was 'especially cruel.' The defense will get the chance to argue that it wasn't especially cruel and if the jurors unanimously agree that it was not, then the judge will set sentencing and decide if she should get life without parole or with parole after 25 years.
However, if the jury decides it was 'especially cruel,' then it will proceed to the penalty phase, where the defense will present mitigating factors - reasons why Jodi shouldn't be executed - then the jury must unanimously decide beyond a reasonable doubt whether she should live or die.
If they don't unanimously agree, a mistrial is declared on that point and a whole new jury is then sworn in and we start all over again. The new jury will have to hear all the facts in the trial phase, which will make it a much longer process than if the original jury decides it. It could still go on for a long time.
Article continues below advertisement
These jurors didn't unanimously agree as to whether it was felony murder or not, so they are comfortable with not agreeing with each other, at least on some issues. I think that deciding whether she should live or die is going to be even more controversial than whether she stole a gun or not with the intent to kill Travis Alexander.
In some states including Florida, they don't have to unanimously decide whether someone should live or die, they just make a recommendation then the judge makes the final decision. To me, the fact that they all have to unanimously agree in Arizona could be a drain emotionally on his family and a drain on the tax payers.
This is how it will all go down: the prosecution and defense present opening statements and closing arguments in both phases - aggravation and penalty -- if they decide it was extremely cruel.
Then Travis' family will be able to be heard if they have any relevant information on whether this was 'extremely cruel,' which means physical pain and/or emotional anguish and that can even happen in the first section.
Article continues below advertisement
I am certain that some of the testimony presented during the trial will show up in both phases. Medical Examiner Kevin Horn will testify and get into why Travis suffered and why it was extremely cruel.
I also think that Jodi will decide that she is going to want to address the jury and at a minimum she should have been told that she needs to apologize. Now she knows it is for real, I think she is going to do whatever to takes and try to come across sympathetic.