Exclusive
Jodi Arias 'Isn't Going To Disappear Quietly Even If She Gets The Death Penalty,' Predicts Legal Expert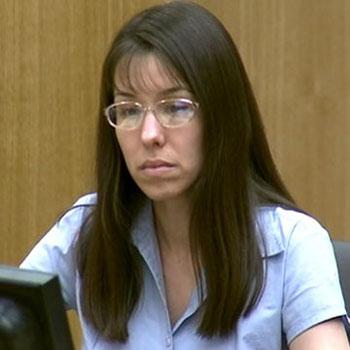 Article continues below advertisement
"She is still going to do the book deals. She will find a way for someone else to write it and then get money. She is way too smart, cunning and baffling to just disappear quietly, you haven't heard the last of her even after the conviction," he explained. "She is going to continue to be in everyone's face, no doubt."
Unlike Casey Anthony, who went into hiding after her acquittal and listened to the advice from those around her, said Eiglarsh, Arias is going to milk her newfound fame for everything it is worth -- and she has the manipulative skills to get away with it.
"People are going to want to hear her over and over again as she will make up something new," he said. "She is an extraordinary story teller."
The creative killer has already found a way to profit from the infamy surrounding Travis Alexander's gruesome June 2008 death by selling her amateur artwork online, with her latest pencil drawing looking eerily similar to her victim's sister, Tanisha Sorenson.
Article continues below advertisement
As RadarOnline.com previously reported, Arias has been selling her drawings on both her own website and eBay starting at $120, with some going for thousands.
A close friend of Travis' told RadarOnline.com that it sickens him to see the woman who stabbed, shot and slit the throat of his pal acting like celebrity during the trial.
"Jodi is enjoying this," Taylor Searle exclusively revealed. "She always dressed for attention, every time I ever met her, and she got it for sure and is now relishing the spotlight. She is enjoying the limelight and starring in her own movie – she loves taking the stage, and that's what it is for her in court.
"It is gross, sad, creepy and disgusting. She lies and then lies and lies and lies."
During this week's closing arguments, Jodi has been forced just to sit quietly transfixed and listen as prosecutor Juan Martinez tries to persuade the jury that she deserves to die by lethal injection.
If they opt for life in prison or a lesser sentence with a second degree murder conviction, Eiglarsh predicts that the femme fatale in prison stripes won't be doing hard labor!
"With her Prisoner Idol singing competitions and her fan club in jail, her life is not hard there," he explained, even though she will be moved from her current home of Estrella Jail near Phoenix to a state prison in Arizona if convicted.
"The worst thing for her is to be sent to death row where she will be literally by herself 23 hours a day," he said.
"That is what she fears most. If she is in general population, she has accepted her fate."