Busted Lying To The Cops: The 13 Biggest Lies That Jodi Arias Told The Police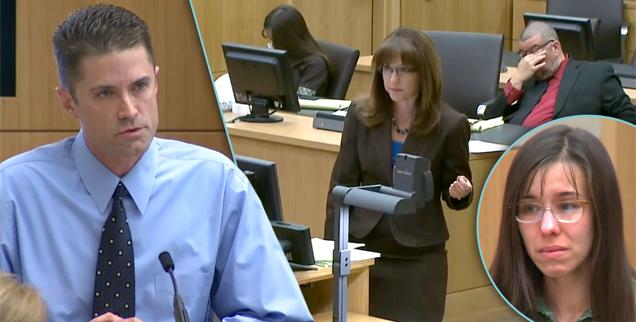 With repeated memory lapses and conflicting tales of both love and abuse constantly spilling out in the courtroom, even murder defendant Jodi Arias has admitted that she "couldn't keep my stories straight" in the wake of Travis Alexander's gruesome 2008 death.
We now know that Jodi was lying from the onset of the investigation during her initial interrogation with Detective Esteban Flores that was carried out a month after the alleged murder when she said she didn't kill Travis, and RadarOnline.com has collected the top whoppers that the femme fatale killer told the police.
Article continues below advertisement
1. She Didn't Hurt Him
"I did not hurt Travis… I would never hurt him," Arias claimed while still denying she had any connection to her former boyfriend's butchering. She has since confessed to killing him, citing self defense with a black-out obliterating details of the grisly crime.
2. She Would Confess If She Had Killed Him
"If I did that, I'd be fully ready to face the consequences. I'm all for the Ten Commandments – thou shall not kill," Arias said playing the role of a devout Christian while still not revealing that she stabbed him 29 times, slit his throat and shot him.
3. She Didn't Kill Travis
When described by Detective Flores as "the kid who got caught stealing the candy and continue to say it wasn't me," Arias continued to claim, "I didn't kill Travis… I did not take his life."
4. She Hadn't Seen Him Since April, 2008
As she was living in Yreka, Calif. before the murder "Arias stated she last saw Travis in April of 2008," a police officer wrote in a document that was read to the jury during the trial. She later admitted that she drove to his house in Arizona on her way to Utah in June 2008 to visit another man.
Article continues below advertisement
5. She Didn't Speak To Him The Day He Died
"On Tuesday night (I talked to him), it was brief though, 10 o'clock maybe. I'd say 10 p.m. or 9 or 9:30," Arias told police, referring to the night before Travis' Wednesday, June 4 death. "I was calling people because I was bored on the road. He was nice and cordial, but kind of acting like he had hurt feelings."
6. She Called Him After She Killed Him, But Didn't Know Why He Hadn't Deleted His Messages
"I may have called him Wednesday, from the road, and I sent him a couple of text messages, and a couple of pictures," she said, though Alexander didn't pick up and his voice mailbox was full. "That's unusual," she said, because he usually deleted his messages. Cell phone records since proved that she reportedly called him and dialed into his voice mail system for 16 minutes, which indicated she was accessing his voice mail messages.
Article continues below advertisement
7. She Hadn't Seen The Camera
The aspiring photographer told Flores that she advised Travis what kind of camera — which has since become a key piece of evidence — to buy but hadn't seen it yet. We now know that the couple took X–rated photos of each other — plus accidental shots of the subsequent aftermath the day of the murder — and she then dumped in it in the washing machine.
8. She Said Travis Didn't Own A Gun
"That is one of the things I am scared of. (Guns and) public speaking," Arias cheerily revealed to the detective. "That was one of the things (Alexander) was trying to get me to do — get out of my comfort zone."
9. She Said She Could Never Stab Anyone
"I'm not the brightest person, but I don't think I could stab him, I'd have to shoot him … The least I could do is make it as humane as possible," Jodi bizarrely revealed, however the bloody crime scene showed that Travis was stabbed 29 times in the most inhumane way possible.
Article continues below advertisement
10. She Would Have Used Gloves
"If I was going to ever try to kill somebody, I would use gloves. I have plenty of them," she claimed, but no gloves were worn during the killing.
11. She Was Attacked By Intruders
When she finally admitted to being at Alexander's Mesa, Ariz. house when he died, Jodi made up a story of two masked intruders breaking in and attacking the couple. "He was kneeling down in the shower, I don't remember, I was taking pictures, and I don't really know what happened after that exactly, except I think he was shot," Arias said on the tape, crying and placing her face in her hands, and then rocking back and forth in her chair. "I was on my knees here and I heard this loud ring, I don't really remember except Travis was screaming," she said.
12. She Was Threatened And Kept Quiet For The Safety Of Her Family
Not only did she fabricate a fantastical tale of being attacked, Jodi painted herself as a heroine by saying she tried to fight back and then kept it a secret because they threatened her family. "They didn't discuss much, they just argued about whether or not to kill me because I'm a witness, of Travis, but I didn't really witness it, I didn't see much," Arias said to Flores. "They got my license and registration. My parents address was on it."
13. She Fought Off Intruders
"She (the other intruder) was in the bathroom, standing over Travis. I charged her. I ran down the hall, pushed her as hard as I could," she bragged, detailing the make believe attack.
As the trial continues on Thursday, stay with RadarOnline.com for regular updates and daily live-streaming.