'I Couldn't Keep My Stories Straight,' Jodi Arias Admits In Death Penalty Trial As Prosecutor Exposes Her Lies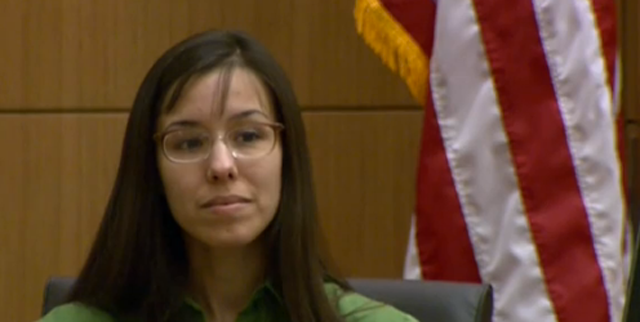 "I couldn't keep my stories straight."
That's what Jodi Arias admitted under intense cross-examination Wednesday during her first-degree murder trial as veteran prosecutor Juan Martinez, repeatedly exposed her lies and appeared to make progress in proving premeditated murder in order to seal the 32-year-old's fate with the death penalty.
Martinez meticulously presented evidence that Travis Alexander's violent killing was planned, and not as Arias has claimed a desperate attempt to escape an attack from him.
Article continues below advertisement
At one point, as Martinez brought forward the various lies she told to media organizations about Alexander's death -- one featured two intruders breaking into his house while she was there -- Arias admitted, "I couldn't keep my stories straight."
It was one of several times during the day that Martinez was able to get the combative defendant to admit she had previously said untrue things, both about her relationship with Alexander and her role in his brutal killing.
Martinez argued that premeditation was partially proven by Arias' specifically renting a car that wasn't red while fleeing after killing her ex-boyfriend, because red cars notoriously get pulled over by police more often. He also argued she borrowed gas cans from a friend so she wouldn't leave a paper trail when she made a detour to Mesa, Arizona while en route to Utah.
The most vital key to the puzzle however is literally the smoking gun, as Jodi originally told Detective Flores that Travis didn't have a firearm but is now claiming that she found the gun while cleaning in 2007 and grabbed it after he allegedly chased her on the fateful day that she stabbed Alexander 29 times, slit his throat and shot him in the face. Martinez played a conversation between Arias and Det. Flores where she stated that Travis did not own a gun.
Article continues below advertisement
Adding to the twisted tale, Arias' grandparents reported a .25 caliber handgun stolen from their Northern California house about a week before the killing - the same caliber used to shoot Alexander - but Arias says she knows nothing about the burglary and insists she brought no weapons to his home
The wily attorney went on to use Jodi's own words against her in court, revealed KPNX Channel 12 News reporter Chris Williams, who describes Martinez as being "like a surgeon on a precision mission" cutting away the layers of Jodi's story.
"People have a tendency to embellish things sometimes, don't they? Just like you in this case," noted Martinez, in more of a statement than a question, a tactic he used much of the day.
"Not on the stand, but in this case, yes," Arias calmly admitted, but denied that she had lied from the beginning of the case until the time she got on the witness stand. "Some things were not true…most things," she said, referring to her fantastical tale of armed intruders that she initially told Detective Flores. One of the intruders, she previously said, held a gun to her head and pulled the trigger.
Article continues below advertisement
Jodi confessed that she lied to the lead investigator not once but twice in the aftermath of Travis' gory death!
She then went on to admit to lying during her interview with 48 Hours, to her friends in Utah, and "everyone," Arias said flippantly, while still claiming that she is now telling the truth in court.
Martinez noted that even her lies were changing as she spoke to various media organizations.
"I couldn't keep my stories straight," Arias confessed. "It's all the same thing, just different versions – I couldn't keep my lies straight."
The morning session of the trial featured more sexually graphic and raunchy text messages between Arias and the victim, plus portions of a sexually explicit recorded phone conversation between the lovers. Arias has tried to portray Alexander as debasing her, making her feel like a prostitute and even said he was into young boys.
But Martinez chipped away at that previous testimony, getting her to admit that she was into their sexual role playing as much as Alexander.
The bombshell trial continues on Thursday. Stay with RadarOnline.com for regular updates and daily live-streaming, which you can watch here.