Lies, Lies & More Lies! Jodi Arias Forced To Admit She Made Up Story About Travis Alexander's Death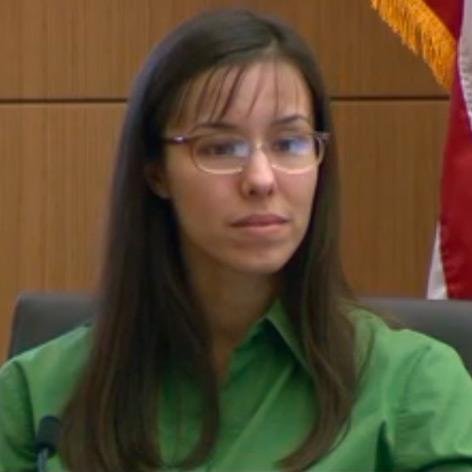 UPDATE: 4:35 PM EST Prosecutor Juan Martinez rocked Jodi Arias during Wednesday afternoon cross-examination by playing a snippet of a phone conversation where she told a detective that Travis Alexander did not have a gun -- a direct contradiction to her earlier testimony. It appeared to be one of the biggest scores for Martinez, who carefully led Arias into her conversation with Detective Flores in the days after Alexander was killed. "Do you know of him having any weapons," the detective asked Arias. "Handguns?" And Arias calmly said, "No. He was more into like wrestling." She earlier testified that Alexander chased her in a rage, causing her to shoot him with his own handgun.
Article continues below advertisement
Determined to make murder defendant Jodi Arias admit she repeatedly lied, prosecutor Juan Martinez methodically – and at times ploddingly – cross-examined her on topics ranging from an X-rated audiotape to the circumstances of Travis Alexander's death.
Martinez once again played part of Arias' infamous interview with TV show 48 Hours for the jury, allowing the defendant's own lies from several years ago to fill the courtroom. Arias described two intruders breaking into Alexander's house on the day he died, with one holding her at gunpoint.
She told two different versions of the intruder story and both were elaborate, filled with details and even she now admits, lies.
"They're not true, right?" Martinez asked about the events she described, getting Arias to admit that neither version was correct.
"You lied to him didn't you?" Martinez said at another point, winning an affirmative answer from Arias on a different topic.
And later the prosecutor, who seemed intent on working the jury with his questions rather than the answers to them, asked: "Part of it was a lie, wasn't it?"
Article continues below advertisement
That theme of Martinez forcing Arias to admit she told lies filled the Wednesday morning session of the first-degree murder trial. Arias, 32, killed former boyfriend Alexander, 30, in June, 2008 but claims it was in self defense. She could receive the death penalty.
But Martinez failed to break new ground in his aggressive questioning, as Arias battled him and often did not answer questions directly.
Martinez once again played an audiotape recorded by Arias filled with sexually explicit banter between Arias and Alexander.
He hammered her about why she recorded the call, trying to get her to say that she wanted control over Alexander. But Arias would not yield. "That's not right," she told Martinez.
And when he continued to press the point the defendant and prosecutor sparred in a manner that did little to advance the prosecution's case but has become typical of the past several days.
Article continues below advertisement
Martinez to Arias about the audiotape: "You created it right?"
Arias: "I recorded it. We both created it."
Martinez: "He had nothing to do with the recording did he?"
Arias: "I don't agree with that."
And on it went, with explicit sexual acts and fantasies described in graphic language. Martinez introduced more text messages into evidence and those too contained explicit sexual material.
Martinez continued to get Arias to admit that some of the fantasies were not things they had actually done, and therefore, a lie.
The prosecutor once again played the 48 Hours interview where Arias described two intruders breaking into Alexander's house the day of his killing.
"I did see Travis the day he passed away," she said on camera. "A lot of things happened that day, I almost lost my life as well."
She told her lies with the same calm demeanor she has exhibited so far on the stand, a subtle but possibly crucial point for the prosecution.
Article continues below advertisement
"He stopped me with the gun, pointed it at my forehead," she said about one of the intruders. "He told me to get down on my knees…He left the room for a few minutes.
"She (the other intruder) was in the bathroom standing over Travis. I charged her. I ran down the hall pushed her as hard as I could."
Calmly Arias told a fictional story of the man pulling the trigger with a gun pointed at her head, and hearing only the sound of an empty click. She described the intruders arguing about whether to kill her and one saying, "that's not what we came here for."
Powerful? Yes. New information for the jury? No.
As Martinez continues to not follow a traditional time line in his questioning, courtroom observers are wondering when he will begin to interrogate Arias about how she killed Alexander.
On direct testimony Arias said Alexander was abusive and chased her in a rage, forcing her to retrieve his own gun and shoot him before breaking free. She said she did not immediately remember stabbing him 27 times or slitting his throat.
Martinez has yet to question her in detail about that testimony but is clearly drawing very close to it.
Stay with RadarOnline.com for the latest details in the trial and you can watch it live right here on Radar.