Exclusive
Nancy Grace Slams Jodi Arias Nasty Tweet!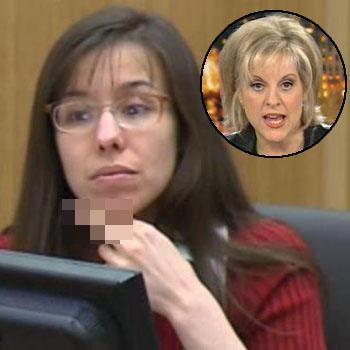 Article continues below advertisement
The Tweet Jodi sent said "Actually Nancy, that finger was for you. Have a nice day," and ripped into the network with: "HLN is an acronym for Haters Love Negativity."
On the Nancy Grace show Thursday night, the woman behind Jodi's Tweets called in and said she was doing the postings to give Jodi a voice behind bars.
"Donavan Bering seems like a nice person," Nancy said diplomatically about the women who met and began her friendship with Jodi behind bars.
MORE ON:
Celebrity Justice
"I am sure she is attempting to be a good friend to Jodi but this rates right on up there with the "fog." Jodi used her middle finger to shoot a bird and then she's claiming that it was unintentional and she was pushing up her glasses? Well her tweets were not unintentional.
"All Jodi does is take an action and then make up a lie about it. That is her SOP – standard operating procedure."
The former prosecutor from Atlanta told RadarOnline.com that Jodi's nasty Tweet is par for the course from criminals.
"Look, I would get death threats from Fulton County Jail every other week. I have not lost any sleep over Jodie Arias."
Nancy said that she doesn't plan on getting back at Jodi Arias for her rudely flipping the bird in court.
"I'm tempted to shoot the bird back but I have to give things like that up when I had the twins!"