Exclusive
Nancy Grace Visits Jodi Arias Jail: It Is 'Far Better' Than She Deserves!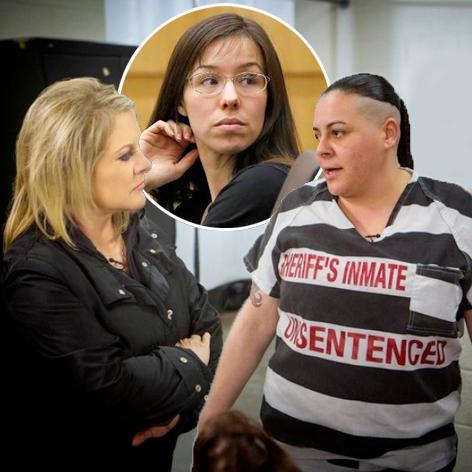 Jodi Arias sits in a jail cell that she described as "smaller than Travis Alexander's closet" during her murder trial and controversial television host Nancy Grace exclusively told RadarOnline.com that she thinks her accommodations are unacceptable for someone who killed their ex-boyfriend!
"That jail is far better than what she deserves," the acid-tongued HLN host said about Jodi's cell conditions.
Article continues below advertisement
"I tasted the peanut butter and it's not bad at all. Travis wishes he could have a peanut butter sandwich," she snapped about the food Jodi can eat.
Nancy visited the Estrella jail herself and shared the photos of her visit where she met women that live with Jodi with RadarOnline.com.
"The jail is too good for Jodi," Nancy exclaimed with disgust. "I have spoken with jail personnel and inmates who look up to Jodi Arias! She has become a celebrity behind bars!"
She explained that Sheriff Arpaio "runs a tight ship" but that Jodi has managed to take advantage of a lot of freedom behind bars.
"She can watch TV, study Spanish, play cards, take classes and is allowed to go outside."
The 32-year-old brunette is standing trial for the brutal murder of Travis in 2008, and she gave the authorities two different stories before bringing out self-defense as the reason she had to stab him 29 times, slit his throat from ear to ear and shoot him in the face.
Nancy dropped the bombshell exclusive to RadarOnline.com that she learned that Jodi told her fellow inmates wildly different stories about what happened that fateful day, but says that putting one of them on the stand is risky.
"There is a risk of putting an inmate on the stand that could be far greater than the reward, but sometimes you gotta go to hell to get a witness to put the devil behind bars."