Aspiring 'Artist' Jodi Arias Torments Travis Alexander's Family By Using His Sister As A Muse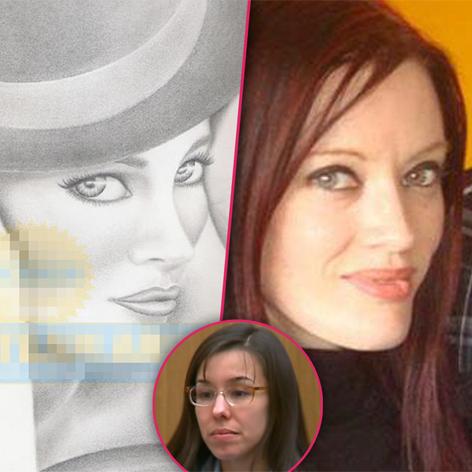 The depth of Jodi Arias' emotional dysfunction appears to have no limits as she continues to torment Travis Alexander's family, this time with her amateur artwork!
The latest picture done by the murder deferent bares a startling resemblance to Tanisha Sorenson, the victim's sister who has sat tirelessly in the Maricopa County Court every day in the hope of finally seeing her brother's killer bought to justice.
Article continues below advertisement
Part of Jodi's The Hat series, the black and white pencil drawing was revealed on the Twitter page, Justice4Travis, who revealed that the resemblance has sparked a flood of angry tweets form Alexander's supporters.
Some concerned critics have pointed out that Tanisha shares many family characteristics with Travis, and the drawing is an extension of her sick obsession with her former lover.
As RadarOnline.com previously reported, Arias has been selling her drawings on both her own website and EBay starting at $120, with some selling for thousands.
Most disturbingly, the 32-year-old has been killing time during the lengthy trial proceeding by drawing in court and selling her latest creations date-stamped to prove they were done after she took the stand for first degree murder on January 2.
Her latest creation, a 9-by-12 inch graphite drawing titled Hourless, is priced at a whopping $2,000 — hey, it includes free shipping — and comes complete with an insightful description written by the woman herself.
Article continues below advertisement
"Some people say they have no regrets; I cannot count myself among them. When I step back and look at Hourless, the concept of time running forward and backward is evoked," wrote Arias on her website.
GRAPHIC PHOTOS: New Crime Scene Images Revealed In Jodi Arias Murder Trial
Sorenson has made no secret of her hatred for Jodi, and earlier in the trial she told HLNTV.com that she hoped Arias got the death penalty.
"I know this might sound creepy, but I hope to get to watch her die someday after she's on death row. Even if it's in 20 years from now, the death penalty is what she deserves, though she most likely won't get it and instead will get some life sentence," said Tanisha.