'I Want To Watch Jodi Arias Die!' Says Sister Of Murder Victim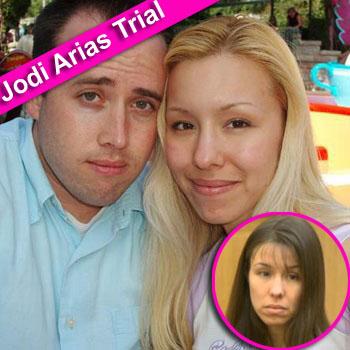 By Debbie Emery - RadarOnline.com Reporter
Travis Alexander's sister is convinced Jodi Arias murdered her brother in cold blood, and she wants the brunette beauty to get the death penalty so she can "watch her die."
As RadarOnline.com previously reported, Jodi -- a 32-year-old photographer from Yreka, Calif., -- is accused of shooting 30-year-old motivational speaker Travis Alexander, a devout Mormon, in the face with a .25-caliber gun and then stabbing him 27 times and slitting his throat from ear to ear in his Mesa, Arizona home in June of 2008.
Article continues below advertisement
If convicted, Arias could face the death penalty.
"I know this might sound creepy, but I hope to get to watch her die someday after she's on death row. Even if it's in 20 years from now, the death penalty is what she deserves, though she most likely won't get it and instead will get some life sentence," Travis' sister, Tanisha Sorenson, told HLNTV.
After initially saying that she wasn't with Travis on the night of his death – even though a bloody handprint placed her at the scene -- Arias next claimed that two masked intruders broke in and attacked them both, but she claimed she was too scared to call the police. She then changed her story again, citing self-defense and telling detectives that Alexander got violent with her.
Almost five years later, Arias is finally in a Maricopa County, Arizona, courtroom tearfully facing a jury and prosecutor Juan Martinez. Despite the repeated delays, Tanisha said: "It will all be worth it when this evil person is convicted."
"I mean she really thought she wasn't going to get caught and messed up too many times," said Alexander's mourning sister from Redlands, California. "She thinks she can be that cunning and charming that she'll be able to have a jury believe her after all this, that she can play the self-defense card after all her previous stories didn't work out for her."
Article continues below advertisement
As for her beloved brother -- a devout Mormon whose friends nicknamed T-Dogg -- Tanisha recalled: "Travis was an amazing person and a great example for me. His death was so hard for me, we are the closest in age.
"After his death, I decided to become a better person and become active in our church and am thankful for the Gospel in which brings some peace to my heart and mind knowing that I will see my brother, my parents, and eternal family again someday. I look forward to the day I get to give him a great big hug," she said.
As RadarOnline.com previously reported, on Thursday, during the second day of testimony in the trial, the case quickly took a grisly turn when the jury was shown a photograph of Travis lying slashed and lifeless in a pool of blood in his shower.
Also on Thursday, a prosecution witness read an alleged message in court, in which the victim said he felt like a sex toy.
"I was nothing more than a dildo with a heartbeat for you," Travis Alexander told Arias in a Facebook message, according to Mesa police detective Esteban Flores.
Article continues below advertisement
Flores statement came just hours after the detective told the jury that Alexander had sent emails to Arias calling her a "slut" and a "whore."
In other testimony on Thursday, the jury heard a recording of an interview between Arias and Flores.
During the interview, Arias said she had dated Alexander for about five months.
"We tried to remain friends ... We were intimate but I would not say romantic as far as a relationship goes," Arias said in the recording.