As Jodi Arias Awaits Jury Verdict, Travis Alexander's Family Holds Emotional Vigil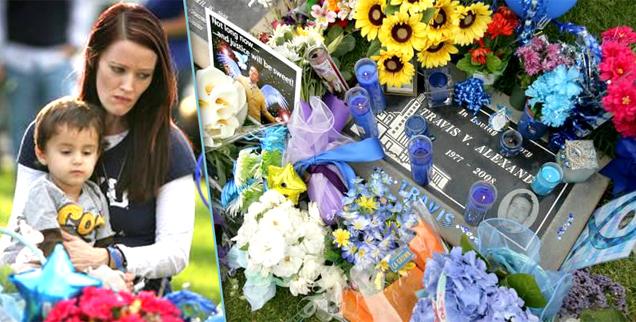 Travis Alexander's family is hoping the jury will deliver a guilty verdict against Jodi Arias, and on Sunday night they held an emotion vigil in downtown Phoenix, Arizona to pray for justice for their brother.
The jury deliberations will begin on Monday, and RadarOnline.com has photos from the family gathered in public with supporters to celebrate Travis' life shared by Justice4Travis.
His sister Tanisha Sorenson was sobbing at the event, wearing a blue BYU t-shirt, a more casual look than the suits she usually wears in court every day, and her husband Harold Sorensen was by her side.
Article continues below advertisement
"He was a very giving person, and thoughtful," said Clancy Talbot a friend of Alexander's said at the gathering, according to CBS 5 in Arizona .
"And, always wanted to make sure he left people better than when he met them."
Tanisha spent time looking at the flower tributes left in memory of her brother, openly crying throughout the evening.
The supporters let off blue balloons in memory of Travis as his other siblings were there to celebrate his memory.