Juan Martinez Gets The Last Word In Jodi Arias Trial, Case Now In Jury Deliberation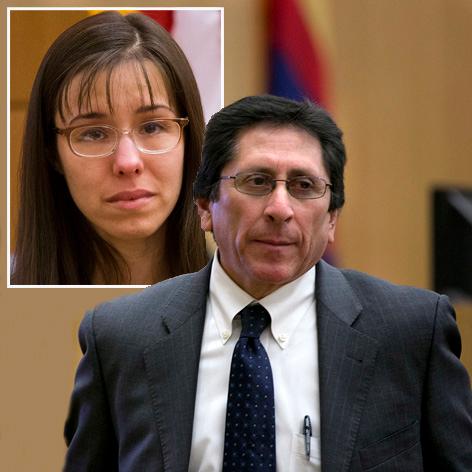 As usual, Juan Martinez had the final word in the Jodi Arias death row murder trial on Friday as he presented his rebuttal argument in response to the defense's closing arguments.
"Why would deadly physical force be necessary after she stabbed him in the heart?" the bulldog prosecutor asked the jury regarding the butchering of Travis Alexander. "Because her intention was to kill, not to defend herself."
Article continues below advertisement
Martinez's return to the center stage of the Maricopa County Courtroom came after the morning had been dominated by Kirk Nurmi, arguing that the premeditation theory didn't make sense because why would his client feign memory loss?
"The problem is if she were lying about this stage of events…wouldn't she actually make up a lie where she remembered?" he asked, as he introduced the options of second degree murder or manslaughter.
While the prosecution steered away from the smut to focus on the facts, Nurmi aimed to remind the jury of Travis' dark side by playing the explicit phone sex tape to the court, where he talked about wanting to rape Jodi, and tie her to a tree in the woods for a sexual act.
"She was great to have around for Mr. Alexander for the sexual purposes, but she wasn't acceptable to his friends, and she might not have been acceptable to his church," slammed Nurmi.
Article continues below advertisement
After recanting Jodi's version of events, he claimed that it makes "no sense" that she may have stabbed him and then shot him, nor that the stab wounds on his back were shallow.
"What happened in that moment in time? The relationship, the relationship of chaos, that ended in chaos as well. There is nothing about what happened on June 4th in that bathroom that looks planned," he stressed. "Couldn't it also be that after everything they went through in that relationship, that she simply snapped?
"Ultimately, if Miss Arias is guilty of any crime at all, it is the crime of manslaughter and nothing more," Nurmi said in conclusion of his argument.
Once his courtroom rival closed his case, Martinez returned for his final chance to convince the jury that the 32-year-old deserves the death penalty, simply stating: "When the facts are on your side, you argue the facts. But when nothing is on your side, you just argue."
Article continues below advertisement
Travis, he said, "was killed in three different ways. The stab wound to the heart would have killed him. Obviously the slitting of the throat would have killed him. And the shot to the face would have killed him. That, all of it, did not happen in one instant," said Martinez, describing the blood thirsty brutal attack," before rebutting the self defense argument. "There is no evidence that he lever laid a hand on her, ever.
"Nothing indicates that this is anything less than a slaughter. There was no way to appease this woman who just...wouldn't...leave him alone," he said, carefully emphasizing his final and definitive words.
With that the mammoth four month trial was handed over to the jury (with jurors 10, 15, and 17 chosen as alternatives ), as Travis' sisters left the courtroom looking tearful and exhausted.