This Is Where Jodi Arias Will Be Executed If Sentenced To Death – All The Details On Her Final Days
The last time the state of Arizona executed a woman the scene was so gruesome that even though it was 83 years ago it is still talked about today.
Jodi Arias will have a much easier death than Eva Dugan did in 1930, and a much less painful end than that suffered by her victim, Travis Alexander, who was stabbed 29 times, had his throat slit and was shot in the face. If convicted of first-degree murder and sentenced to death, Arias will take her final breaths in the room pictured below, and her life ended by lethal injection.
Article continues below advertisement
As Arias' trial winds down, RadarOnline.com has uncovered the details of how she will spend her final days if sentenced to die. Her death by lethal injection is likely to be far more humane than what happened to Dugan in 1930, when an error by the hangman caused a gruesome end.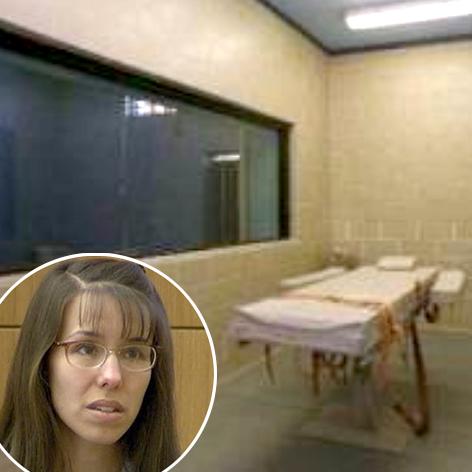 And while it has been decades since Arizona executed a woman, the state has become one of the leaders during the past year in carrying out executions, certainly not good news for Arias, who has admitted to killing Alexander but says it was in self defense.
Arias, 32, would spend 23 hours a day in a cell on death row at Perryville state prison. She would join three other women on death row in the Lumley Unit. One of those women awaiting execution was convicted by Arias' prosecutor, Juan Martinez. (There are also 121 men awaiting execution.)
The cell where Arias would spend the rest of her life is 12 feet by 7 feet, 2 inches -- slightly more than 86 square feet.
Article continues below advertisement
She will not be allowed contact with any other prisoner and her cell would have only a toilet, sink, bed and mattress, according to the Arizona Department of Corrections.
Arias will see little else other than the inside of that cell. Death row inmates are taken to exercise outside for two hours, three times a week. The outdoor area resembles a large cage, with fencing on all sides and above.
She will be allowed to shower only three times a week and the visitation rules are highly restrictive with no contact allowed.
"Personal property is limited to hygiene items, two appliances, two books and writing materials," according to the state's department of corrections.
GRAPHIC PHOTOS: New Crime Scene Images Revealed In Jodi Arias Murder Trial
If the day arrives that Arias is put to death -- Arizona's last execution was December 5, 2012 -- she will be granted a last meal and given the chance to speak last words before a lethal injection is administered. The execution would take place at a different prison than where she would live her final days.
Article continues below advertisement
The average length of stay on death row before execution in Arizona has been 12 years since 1937, according to official records. And while prisoners once had a choice of the method of death -- lethal injection or gas chamber -- Arias would be strapped to a gurney and given a lethal injection.
Even though executing women has been rare for the state, that is not the case when it comes to men. Six men were executed by Arizona in 2012 and four in 2011. Arizona was tied for second among states for the most executions in 2012, trailing only Texas.
One public defender noted that Arizona is not shying away from the death penalty in recent years -- and that's potentially very bad news for Arias. Andrew Clemency (yes, that's really his name) is a public defender specializing in the death penalty who told the Huffington Post: "Arizona is becoming a major player in the death-penalty world, right up there with places like Texas, or Georgia or Florida."