Exclusive
Cleveland Kidnapper Ariel Castro Was 'A Sweet Person' With 'Two Personalities,' Reveals Uncle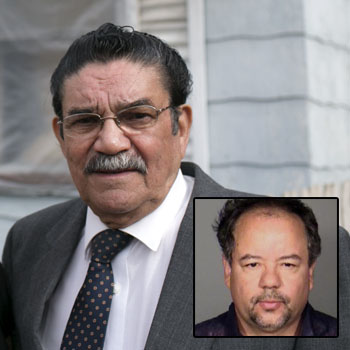 Article continues below advertisement
"Apparently he had two personalities. We only knew the one, we didn't know there was another personality inside of him. We only knew the good personality, we didn't know the other side," his uncle Julio Castro told RadarOnline.com in an exclusive interview, as he expressed his "shock" at the events that unfolded this week.
When asked if he had ever seen Ariel, 52, act violently or aggressive, he replied, "No, he was a sweet person. He had distanced himself from me and I didn't know why that had happened.
"I haven't talked to him in seven years. I have never been inside (that house) since he was there," revealed the grocery store owner whose shop, Caribe, is just a few blocks away from the white clapboard house where the women were kept for nearly a decade in what has been described by prosecutors as "a torture chamber and private prison in the heart of the city."
During the time that Julio had been estranged from his nephew, Ariel had reportedly fathered a now six-year-old daughter with Berry named Jocelyn, who is finally enjoying her first taste of freedom outside of the confinement of where she was born.
Article continues below advertisement
PHOTOS FROM ANOTHER SHOCKING CRIME: Inside The Home Where Jaycee Dugard Was Held Captive
Not knowing Ariel's dark secrets, why the family members were not in touch with each other more often was a mystery to other relatives.
"The uncle's store is right down the street. I don't know why he never went to check on his nephew," Ariel's brother-in-law Jose Figueroa said in a prior interview with RadarOnline.com.
While Ariel is currently held on an $8 million bond charged with three counts of rape and four counts of kidnapping, his brothers Pedro, 54, and Onil Castro, 50, were released from jail uncharged on Thursday.
"They were let go today as they couldn't find anything on them," confirmed their Julio to RadarOnline.com, adding that he doesn't know if they had anything to do with the disgusting crime.
Ariel is expected back in court within thirty days to enter a plea, and a prosecutor said that he may also face charges of murder in the termination of his captives' other pregnancies.
In addition to aggravated murder, Cuyahoga County, Ohio, Prosecutor Timothy McGinty vowed to seek charges "for each and every act of sexual violence, rape, each day of kidnapping, every felonious assault (and) all his attempted murders," reported CNN.
A conviction on such charges could lead to the death penalty.