Three Women Rescued From Ohio House Of Horrors: 7 New Developments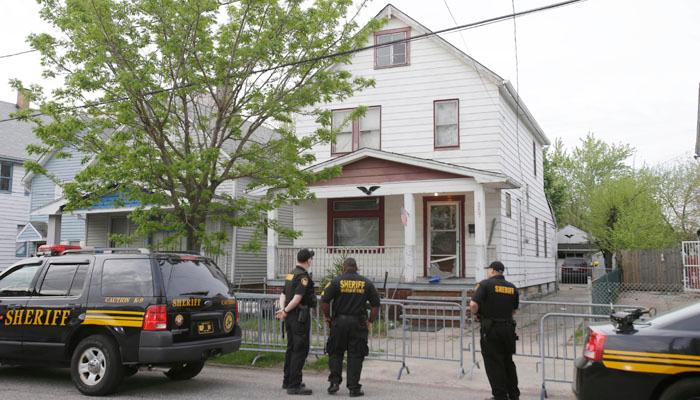 We've got all of Thursday's latest developments in the rescue of Amanda Berry, Gina DeJesus, Michelle Knight and a 6-year-old girl from a Cleveland house of horrors, where they were held captive since the early-2000s.
1. Ariel Castro In Court Thursday
Suspect Ariel Castro will appear in a Cleveland courtroom Thursday morning to hear the seven counts of kidnapping and rape he's charged with, prosecutor Victor Perez said Wednesday. Investigators Wednesday revealed that Berry's ultimately-successful attempt to escape Monday came after a hungry Castro forgot to lock a door in the home, as he hastily left for the McDonald's restaurant he was arrested at.
Article continues below advertisement
2. Suspect's Two Brothers Not Charged
Castro's brothers Pedro, 54, and Onil, 50, have not been charged in connection with the kidnapping, authorities said, noting that none of the women gave investigators any indication either of the men were involved.
"There is no evidence that these two individuals had any involvement in the commission of the crimes committed against Michelle, Gina, Amanda and the minor child," Perez said.
The men were arrested in the "chaos"of the discovery Monday, Perez said. Both brothers remain in custody on warrants for misdemeanors unrelated to the incident.
3. Families Reunited
While both have yet to publicly speak on what happened, Berry and DeJesus returned Wednesday to their Cleveland-area homes, which were both decked out with celebratory signs, balloons and hordes of media on hand.
Berry's sister Beth Serrano said in an impromptu news conference outside the home, "I want to thank the public and the media for their support and their encouragement over the years. At this time, our family would request privacy so my sister and niece and I can have time to recover."
Article continues below advertisement
DeJesus' aunt Sandra Ruiz gave a statement outside her family's home, saying, "I'm asking God to watch over all of us, and the last thing the family is asking is that we as a community do not go retaliate against the family or the suspects of this crime."
Ruiz implored to let the authorities do their jobs, and let justice play out on its' own.
Gina:
youtube
4. Castro Relatives Apologize To Victims
Castro's first cousin Maria Castro-Montes publicly apologized to the victims Wednesday, saying her family is "stunned and shocked" at recent news.
"We are horribly sorry for what the three of you went through," Maria, a 45-year-old hospital administrator, said in a news conference near the scene of the crime.
"These three people don't define this family and we hope that people don't judge an entire family on one person's actions," she said. "We share a bloodline and a name, but that's where the connection stops."
Article continues below advertisement
5. Castro's Daughter Slashed Baby's Throat In '07
News surfaced Wednesday that Ariel Castro's daughter Emily slashed her 11-month-old daughter's throat in April 2007, getting sentenced to 30 years in custody with five years suspended, after a judge found her guilty, but mentally ill, in the incident.
Emily, who was 19 at the time, was distraught after the baby's father had moved out of their Fort Wayne, Ohio home, and cut her own neck and wrists as well.
During her 2008 trial, she called herself "a very good mom" and said she didn't "know how this happened."
The child, thankfully, recovered from the attack.
6. 'Hero' Charles Ramsey's Criminal Past
Charles Ramsey, the charismatic neighbor who helped Berry free, and has since become a viral video superstar, has been convicted of domestic violence on three separate occasions -- in 1997, 1998 and 2003 -- according to a report from The Smoking Gun on Wednesday.
Article continues below advertisement
Ramsey, 43, told reporters when he heard Berry banging on the door, he "figured it was a domestic violence dispute."
All three incidents involved Ramsey's ex-wife, Rochelle, a nurse from the Cleveland area. While she said he eventually apologized, and they're on OK terms at this point, she added that "he never paid child support"
The two have a 15-year-old daughter who, Rochelle told the website, is estranged from her father, going so far as to cut him out of family pictures.
7. Charity Fund For The Victims
A charity organization called the Cleveland Courage Fund has been set up to help the three women rescued from the house of horrors, and their families. Donations will be forwarded to nonprofits that can help them with special services in their time of needs.
Money can be donated at ClevelandFoundation.org, or to sent to the organization's headquarters at 1422 Euclid Avenue, Suite 1300, Cleveland, Ohio 44112. KeyBank branches are also accepting donations for the fund.
Watch the video on RadarOnline.com
Keep checking RadarOnline.com for the latest developments in this story.
radar_embed service=5min.com src="http://pshared.5min.com/Scripts/PlayerSeed.js?sid=1126&width=570&height=351&playList=517774191&sequential=1&shuffle=0"