Cleveland Hero Charles Ramsey Turns Into Viral Video Superstar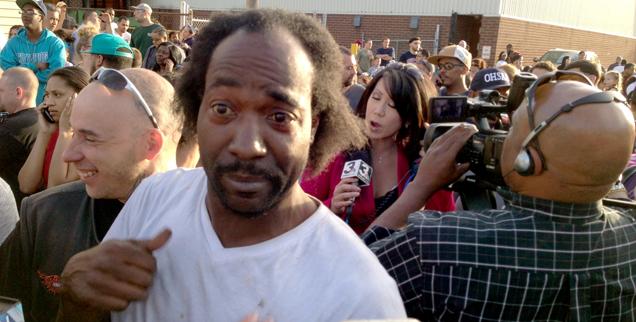 Humorous, quotable and full of personality, the Internet has gobbled up Charles Ramsey like a Big Mac and fries, and we've got a full recap of his busy week, including his appearance on Good Morning America on Wednesday.
Ramsey -- who helped Amanda Berry escape from the Cleveland House of Horrors and alerted 911 operators to the situation -- has become a veritable viral sensation after his heroic actions Monday unfurled a ghastly tale that has gripped the nation's collective consciousness.
Article continues below advertisement
Ramsey, who dropped a number of humorous soundbites in follow-up interviews -- claiming suspect Ariel Castro had "big testicles," in one instance -- became the topic of several auto-tunes nearly instantly, as news of the story spread.
youtube
In what's become perhaps his catchphrase, Ramsey, who is African American, told a local reporter, he "knew something was wrong when a pretty little white girl ran into a black man's arms."
In another instance of unintended hilarity, Ramsey said of Castro, "There's nothing exciting about him -- well, until today."
Naturally, his name became a top trending Twitter topic, with celebrity shout-outs from Artie Lange, Valerie Bertinelli and Patton Oswalt.
On GMA Wednesday, a much-more subdued Ramsey, sipping Red Bull, told George Stephanopoulos, of his busy week: "I'm, you know, pushing through the level, here.
Article continues below advertisement
"It's going to be a while, bro. No, no, I mean I'm just -- I'm speechless," he said. "Not only … I didn't see nothing, apparently my neighbors haven't seen anything either. I've been there a year. She's been right there next door to me for a year."
In an ironic twist, Stephanopoulos pointed out to Ramsey that they went to rival high schools in Cleveland.
Ramsey also mused on being bamboozled by his neighbor, who he viewed as an average Joe.
Watch the video on RadarOnline.com
"I eat his food when he feels like barbecuing. When he feels like playing salsa music, I try to, you know, merengue. Had I known that, it would be a whole different interview, wouldn't it?" he said. "So I'm that stupid or his kind are that good."