Neighbors Saw Naked Women With Dog Leashes Around Their Necks Crawling Outside Cleveland Kidnap House, Say Police Did Nothing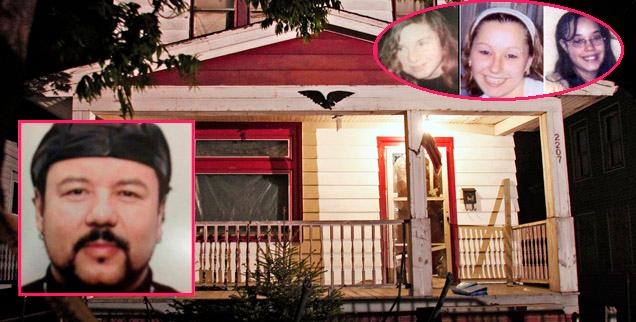 Three women survived a decade of horror, kidnapped and imprisoned at 2207 Seymour Avenue in Cleveland and now neighbors are coming forward with new information that raises questions about why the women weren't rescued sooner.
Three women, assumed to be Amanda Berry, Gina DeJesus, and Michelle Knight, were spotted just outside of Ariel Castro's home, crawling naked and being controlled by three men.
Castro and his two brothers, Edwin and Antonia, have been arrested in connection with the situation but not yet charged.
Article continues below advertisement
Israel Lugo lives two house away from Castro and he told reporters about neighbors seeing the naked women. He claims police were called three times in 2011 and 2012 and did nothing, reports USA Today.
In November, 2011 police responded to one call and pounded on the door. When no one answered, "they walked to the side of the house and then left," Lugo told the paper.
SHOCKING PHOTOS: Elizabeth Smart Evidence In Kidnapping Case
It gets worse.
According to USA Today:
"A third call (to police) came from neighborhood women who lived in an apartment building. Those women told Lugo they called police because they saw three young girls crawling on all fours naked with dog leashes around their necks. Three men were controlling them in the backyard. The women told Lugo they waited two hours but police never responded to the calls."
Article continues below advertisement
And Elsie Cintron, who lives three doors away, claims her daughter saw a naked woman crawling on her hands and knees in the backyard and alerted police, USA Today reported. "But they didn't take it seriously," she told the paper.
PHOTOS FROM ANOTHER SHOCKING CRIME: Inside The Home Where Jaycee Dugard Was Held Captive
On Tuesday police acknowledged they had been to Castro's home twice, knocking on the door and getting no answer one time after a complaint about his job as a school bus driver. They said they were still searching records about other possible calls.
But on Wednesday Cleveland police denied that there were other calls, pitting their version against neighbors' recollections as everyone wondered how such an atrocity went undetected for so long.
Multiple outlets have reported that Berry, Knight and DeJesus were held in chains inside the home and chains were found hanging from a ceiling.
As the FBI searched the inside and outside of the house, credible reports indicate there were at least five pregnancies among the captive women.
Article continues below advertisement
And Lugo, the neighbor, says the house's windows were covered with plastic bags, raising suspicions.
Lugo told USA Today his sister saw a woman and baby standing in a window after hearing pounding. The window was partially covered with a plank. Lugo said he was suspicious and called police and again, nothing happened.
And Lugo's mother also called police after noticing Castro left his school bus in front of the Seymour Avenue home and went inside with large quantities of McDonald's, leaving her to wonder why he needed so much food.
"I thought something was wrong because I got bad vibes from him," Lugo, 39, told USA Today, adding, "I didn't want to accuse someone falsely." Now it appears neighbors are pitted against police in an attempt to figure out how the three women were left to suffer for so long.