Exclusive
Lawsuit Over Robert Kardashian's Diaries Raises The Question 'Were His Kris Jenner Abuse Accusations True?'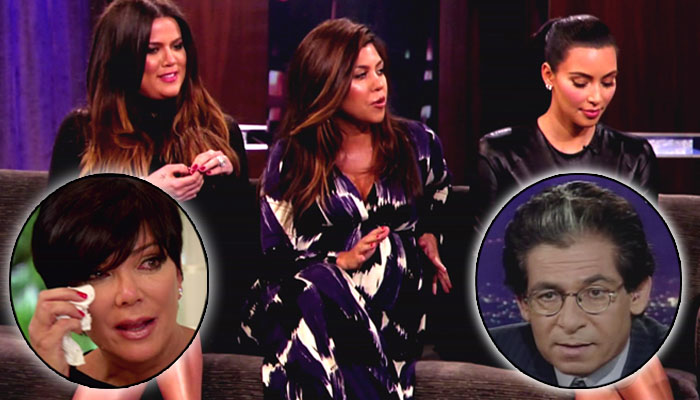 Article continues below advertisement
The Kardashian family immediately went on the offensive following publication of the salacious expose, with a series of tweets slamming Ellen, accusing her of "selling lies to the tabloids" and "selling false stories." The family strongly disputed her damning accusations.
"You should be hiding in shame for all of the lies you sell to tabloids!!" Khloe tweeted on January 24.
"10yrs after my fathers passing & now that she has filed for bankruptcy... NOW she sells FALSE stories. Hope that money buys you water in hell," she continued.
Then, on January 24, Kim posted on Facebook: "So my dad's ex is selling ridiculous stories again to tabloids! Do not believe it! Sad when people need $ & get desperate. 10 yrs since dad passed & this woman he married for 2 wks before he died need 2 get a job instead of trying 2 destroy families w fake stories! PS that story that my mom beat me & threatened to kill me hahahhahaha! I'd beat her! JK truly laughable! #NOTTRUE."
Article continues below advertisement
Meanwhile, the family's rep released a statement, calling into question the very existence of the diaries and slamming the accusations: "We have no knowledge of these diaries existing and these accusations are ridiculous and not true."
However, the narrative shifted considerably Thursday after a copyright infringement lawsuit was filed by the Kardashian family against Pearson, acknowledging the existence of the diary and demanding compensation of "not less than $500,000."
In the lawsuit the family's attorney argues that Pearson did not have legal ownership of the "diary" and therefore was not permitted to profit from its sale. (The lawsuit does not state that the family was unaware of the diaries prior to publication.)
But now that the family's lawsuit has them acknowledging the existence of Robert Kardashian's diary, it raises this question: Do the Kardashians contend the accusations Robert made in his personal journal are "all lies" and "false stories"?
Article continues below advertisement
As RadarOnline.com previously reported, many of the diary entries are damning and paint Kris Jenner - whom Robert was still married to at the time of writing - in an extremely unfavorable light.
"Kris was kicking and beating Kim and said she was going to kill her!" Robert wrote on Aug. 24, 1989. "Kim was hysterical."
Another excerpt slams Jenner over her affair with Todd Waterman, "She doesn't leave a number in case of emergency. She doesn't care!" he wrote on Dec. 15, 1989. "She left the kids and screwed all night!"
Only 10 days after that entry, Robert fumed, "Kris couldn't get her act together" to spend Christmas with her children, "I was home alone with 4 kids."
In their lawsuit, the Kardashians do not mention anything about the validity of what Robert wrote. Because it is a copyright lawsuit the family is contending they own the material, which avoids the "true or false" issue.
The Kardashians are represented by Beverly Hills powerhouse lawyer Marty Singer, who wrote in the legal papers that Robert's widow created "a despicable and unlawful scheme to hold in secret and convert, and now exploit … private personal and copyright-protected" material. The suit also stresses that Robert left the "bulk of his personal tangible and intangible property" to his four children at the time of his 2003 death and goes on to detail why the family believes the material belongs to them and was hidden by Ellen.
They maintain Pearson saved the materials "with the express intent to one-day capitalize and exploit the valuable property and celebrity of the famous Robert Kardashian," noting she didn't mention the collection in her possession when she filed for bankruptcy three years ago, by which time the Kardashians were established TV personalities.
"Today's filing should serve as notice that they will vigorously defend their rights when forced to do so," Singer said in a statement Friday.