Kim Kardashian & Sisters Continue War With Stepmother, Call Her 'Delusional' & 'Black Widow'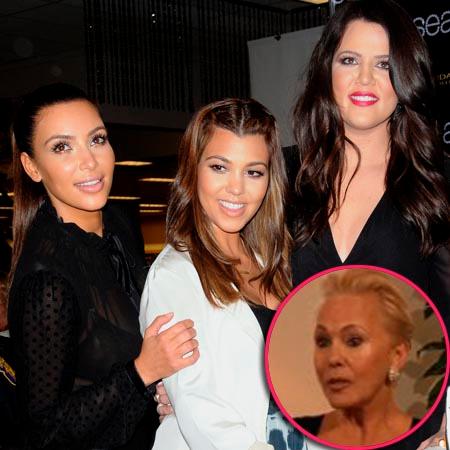 The Kardashian sisters have upped their ugly war-of-words with Ellen Kardashian, the former wife of their father, Rob Kardashian, calling her "delusional" and a "black widow."
The sisters' latest round of insults come after Ellen called the sisters liars who don't even know when their father died. In response, Khloe and Kourtney have once again taken to Twitter, slamming her by writing: Will forger! When someone is delusional, there is no point wasting time responding to their delusions. #blackwidow"
Article continues below advertisement
As RadarOnline.com previously reported, the reality siblings are claiming that Ellen sold false stories to a national magazine that alleged their mother, Kris Jenner, was an abusive parent and that Ellen married their father, famed attorney Robert Kardashian, on his death bed in 2003.
"I was with Robert for almost five years total," Ellen said late Friday. "I dated him for three years, and he proposed to me in 2001. We married two months prior to his passing in 2003 and planned a wedding -- we didn't just run right out and get married. In fact, I met with the girls just the week before to go over all our plans. We had a beautiful wedding with the girls and all of his family at our home. It's sad they choose to lie when they know their father was so happy on that wonderful day."
Ellen also pointed out that both Kim and Khloé referred to their dad as having died "10 years ago" when in fact he died from cancer on September 30, 2003, just over nine years ago.
As RadarOnline.com previously reported, Kim and Khloé have denied their mom abused them when they were young and their rep even challenged the existence of diaries left behind by Robert chronicling such behavior.
"We have no knowledge of these diaries existing and these accusations are ridiculous and not true," the sisters' rep said.
Article continues below advertisement
And Kim tweeted, KimKardashian "PS that story that my mom beat me & threatened to kill me hahahhahaha! I'd beat her! JK truly laughable."
Khloé also attacked Ellen, who was her dad's third wife, on her motive for going public with her claims. "10yrs after my father's passing&now that she has filed for bankruptcy… NOW she sells FALSE stories. Hope that money buys you water in hell" Khloé tweeted.
"Now that's old news," Ellen struck back. "When Robert died, he left me a big mortgage on both homes, and I had to pay. So when the real estate market went south -- just like 50% of all the rest of Americans -- it wasn't worth keeping. So at my lawyer's advice, I didn't. That was two years ago, and I let the bank take it back. To get out from underneath everything else, they filed bankruptcy at the same time. That's true and a record anyone can pull up at the County Recorder."