Kris Jenner 'Tortured' Kim & Kourtney Kardashian -- Pulled Hair & Repeatedly Beat Them, Claims Ex-Husband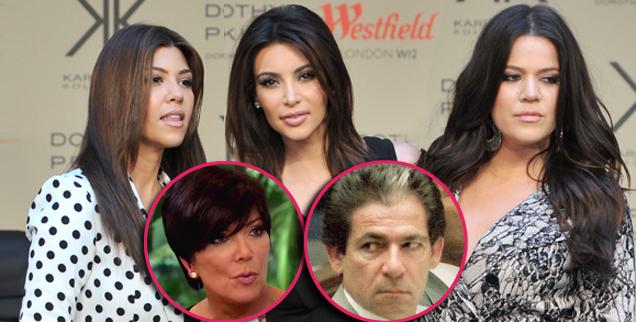 Kris Jenner tortured her daughters Kim and Kourtney with hair-pulling, arm-twisting and repeated beatings, according to diary entries of her late ex-husband Robert Kardashian published in a new weekly magazine report, RadarOnline.com has learned.
In one entry, Robert claimed he received a "crying and hysterical" phone call from Kourtney, claiming Kris was pulling her hair and twisting her arms. And according to a passage dated Oct. 20, 1993, Kourtney (then 14) and Kim (then 12) "are scared and nervous, have been beat up several times before and are very, very intimidated," wrote the late member of O.J. Simpson's "Dream Team." Robert's widow, Ellen Kardashian, provided In Touch with the writings from the attorney, who died in 2003 from esophageal cancer.
Article continues below advertisement
They paint a grim portrait of "Momager" Kris' parenting skills dating back nearly 20 years, as other passages claim Kris neglected her husband and children while carrying on an affair with young tennis stud Todd Waterman (the last of which she's admitted to).
In another entry dated April 23, 1990, Robert groused that Kris "doesn't really care about the kids at all."
"He loved those kids more than anything," Ellen told the magazine. "Kris didn't even want kids … though she liked buying them clothes, making them beautiful."
As for her affair, Robert wrote in a passage that Kris was adding insult to injury by lavishing Waterman with expensive gifts - including a $1,200 refrigerator from Sears he didn't know about until getting the tab. When Robert called Sears to dispute the charges, he wrote "they informed me that my wife had purchased this refrigerator for Todd Waterman."
Kris and Robert finally ended their 12-year marriage in 1991; Kris married current hubby Bruce Jenner later that year.
Article continues below advertisement
As RadarOnline.com previously reported, Star magazine initially broke the story of Kris' affairs in two bombshell exclusive interviews - one with Ellen, and another with Robert's second wife, Jan Ashley, both of whom claimed Robert said he doubted he was the father of daughter, Khloe.
The Kardashian sisters, through their rep, said that "we have no knowledge of these diaries existing and these accusations are ridiculous and not true."