Is He Bananas? Justin Bieber's Monkey Confiscated In Germany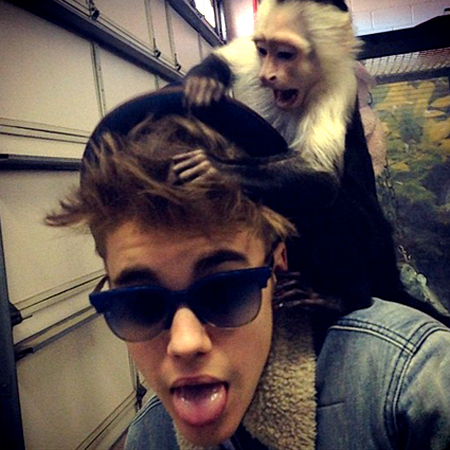 More shenanigans for tarnished star Justin Bieber.
The Baby singer's pet monkey was confiscated by German officials and left in a quarantined area after the pop star, 19, didn't file the necessary paperwork to bring the animal into the country upon arriving there, customs spokesman Thomas Meister told the AP.
Bieber took the stage in Munich on Thursday with dates in Austria and Germany on the slate. He insisted the monkey (reportedly named "Mally") come with him on the plane there despite the lack of proper documentation, a source told the UK Sun.
Article continues below advertisement
"Justin has been acting like a right diva. He is out of control and lives in an alternative reality to the rest of us," the source told the paper. "He didn't think about the potential risks of flying a monkey from one continent to another.
"He and Mally go everywhere together. He will be heartbroken it has been put in quarantine. He seems as fond of Mally as Michael Jackson was of his chimp Bubbles."