Terror At The Boston Marathon: 7 New Developments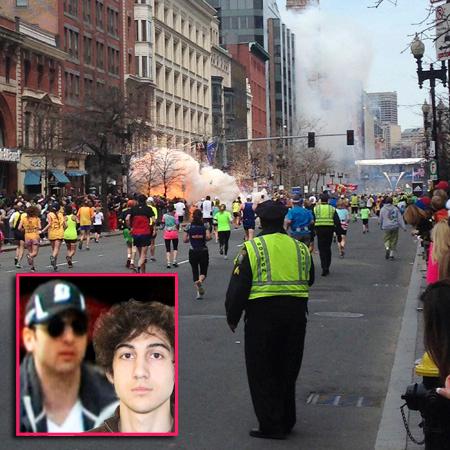 We've got all of Thursday's latest developments in the wake of last week's bombing at the Boston Marathon.
1. Suspect's Silence
Surviving suspect Dzhokhar Tsarnaev -- after a 16-hour interrogation session in his hospital room-- had no more to say after U.S. Attorney's officials read him his Miranda warning.
Dzhokhar, 19, told investigators that his 26-year-old brother Tamerlan -- who was killed during a shootout with police Friday -- had only recently sought his involvement in the terrorist act.
Article continues below advertisement
He said he and Tamerlan were motivated by their outrage over the killing of Muslims in Afghanistan and Iraq during the U.S. wars over the past decade.
2. Dropped The Ball?
Authorities told the AP, under conditions of anonymity, that the CIA tabbed Tamerlan as a terrorist 18 months ago, naming him in a classified database after warnings from Russian officials that he was a security threat to the American people. Congress is expected to launch inquiries in the next month into how the tips were followed up on, and if the information received could have prevented the April 15 bombing that left three people dead, 282 injured and 14 without all, or part, of a limb.
|
|
3. Tsarnaev Father To U.S. Soil
Anzor Tsarnaev, the father of both bombing suspects, said Thursday he expects to leave for the U.S. "today or tomorrow" after moving from the states to his native Russian province of Dagestan last year. Their mother Zubeidat has not come to a decision yet, as she's worried about being arrested after authorities accused her of shoplifting last year. She added that her attorneys have told her that the incident is not of concern with U.S. officials.
Article continues below advertisement
4. V.P. At Fallen Officier's Memorial
Vice President Joe Biden called the Tsarnev brothers "two twisted, perverted, cowardly, knock-off jihadis" in a speech at the memorial service for Sean Collier, the Massachusetts Institute of Technology police officer the brothers gunned down at the start of Friday's manhunt.
He told the victim's family, "My heart goes out to you, I hope you find some solace in this time of extreme grief. The moment will come ... when the memory of Sean is triggered and you know it's going to be OK," Biden said. "When the first instinct is to get a smile on your lips before a tear to your eye."
As many as 5,000 people, including police officers, students and faculty, were in attendance for the service, at which James Taylor sang, Shower the People.
5. Survivors Cope In Aftermath
Two of the 14 people who lost all, or part, of a limb in the marathon bombing opened up to the AP about the challenges they face as they recover at Boston's Spaulding Rehabilitation Hospital.
Adrianne Haslet, a 32-year-old ballroom dancer who lost her left foot, said she plans on both dancing again, as well as running next year's marathon.
Article continues below advertisement
"I will crawl across the finish line, literally crawl, if it means I finish it," Haslet said.
Beth Roche, a 59-year-old Highland, Ind. office manager there to see her daughter run, suffered serious damage to her left leg in the blast, saying it tore her foot apart "like a sardine can" and left bones poking out of her leg. Roche, who has past ran in the Chicago marathon, said she aims "to do another marathon by the time she's 65."
|
|
6. Russian President Speaks Out
Russian President Vladimir Putin said the fallout of the marathon incident has brought about better cooperation between the American and Russian officials.
"This tragedy should push us closer in fending off common threats, including terrorism, which is one of the biggest and most dangerous of them," Putin said.
Article continues below advertisement
Putin said the incident should put an end to any support, political or financial for Chechen extremists from the Western world.
"I always felt indignation when our Western partners and Western media were referring to terrorists who conducted brutal and bloody crimes on the territory of Russia as rebels," Putin said. "We always have said that we shouldn't limit ourselves to declarations about terrorism being a common threat and engage in closer cooperation; now these two criminals have proven the correctness of our thesis."
Watch the video on RadarOnline.com
7. Reaching Out …
Neil Diamond will forward all of the profits from Sweet Caroline sales to victims of the disaster. According to Nielsen SoundScan, the 1969 song, the unofficial anthem of the Boston Red Sox baseball club, saw a huge increase (597 percent) in sales with more than 19,000 buys this past week, buoyed by Diamond's performance at Saturday's ballgame.