Boston Bombers: Their Secret Lives Revealed As Family Members And Friends Speak Out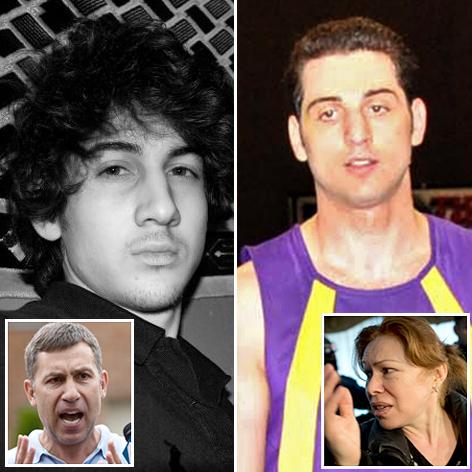 Whether uttering words of disgust at their diabolical actions or mourning the loss of a loved one, the family and friends of the Boston Marathon bombing suspects are all in shock at the apparent actions of the two brothers.
As we previously reported, officials Thursday identified the brothers as the suspects in the bombing that left three people dead and more than 130 people injured, some suffering the amputation of limbs.
Article continues below advertisement
On Thursday, the men shot at two officials, police said, as they killed a Massachusetts Institute of Technology police officer -- and left a transit officer in serious condition at a local hospital.
Here are seven things we have learned about their secret lives.
1. They Always Felt Like Outcasts
Dzhokhar, 19, and Tamerlan Tsarnaev, 26 — who have been publicly identified as the potential terrorists – were described by their uncle as "losers" who had trouble settling into life in the US since they moved to Cambridge, Massachusetts, from their native homeland of Chechnya in 2003.
Ruslan Tsarni revealed that his nephews were not "able to settle themselves and thereby just hating everyone who did."
He also said that their amateur mechanic father, Anzor Tsarnaev, "had little influence over them."
Rather than being close to the boys, the Montgomery Village, Maryland, resident said he steered clear of his refugee relatives and last saw them in 2005: "I just wanted my family to be away from them."
Article continues below advertisement
After following the story since the deadly blast on Monday, Tsarni was horrified to learn that his own flesh and blood was involved in the mayhem. "I would never, ever imagine that somehow the children of my brother would be associated with that - it is atrocity," he said, adding that Dzhokhar had "put shame on the Tsarnaev's family."
2. They Lied To Their Father
Currently living in the Russian city of Makhachkala, Anzor Tsarnaev spoke to his sons about the bombing that had rocked Boston on the phone earlier this week.
"Everything is good, Daddy. Everything is very good," they told their father, Anzor told ABCNews.com after learning about their involvement.
Refusing to believe their guilt, Tsarnaev called the boys "angels" and insisted they were innocent and set up.
However, he begged his youngest son to surrender and come back to Russia.
"Give up. You have a bright future ahead of you."
3. They Had Few Friends
Despite becoming a lawful permanent resident in 2007 and naturalized U.S. citizen on September 11, 2012, Tamerlan, who was married and had a 3-year-old daughter named Zahara, said he never felt like he belonged in his adopted country.
Article continues below advertisement
"I don't have a single American friend, I don't understand them," he revealed in an online photo essay he made called Will Box for Passport.
As RadarOnline.com previously reported, the aspiring engineer was killed in a firefight with police after suffering blast and gunshot wounds.
4. From Star Student To Alleged Terrorist
Dzhokhar is remembered by his classmates as being "completely normal" and a team player who was even named as one of the Cambridge Rindge and Latin School Greater Boston League Winter All Star for his wrestling skills.
In 2011, he received a $2,500 scholarship from the City Of Cambridge that was granted to high school seniors and others pursuing higher education, which he then put towards his fees at UMass Dartmouth, where he lived in the Pine Dale dorm and played intramural soccer on Mondays, but didn't show up for this week's game.
One teammate told ABC News that Dzhokar was a "quiet guy" who was "a little bit of a druggie."
MORE ON:
Dzhokhar Tsarnaev
Article continues below advertisement
"He never seemed out of the ordinary at all," high school classmate Sierra Schwartz told Good Morning America. "This is not someone who seemed troubled in high school or shy. He was just one of us. It's very weird."
5. A History of Violence
While Dzhokhar is described as a pacifist who believed that the war in Iraq and Afghanistan were "stupid," his late brother had more violent tendencies. He was arrested in connection with domestic violence in July 2009 linked to an assault on his girlfriend, the website spotcrime.comreported.
"(Tamerlan) was always getting into trouble. He was never happy, never cheering, never smiling. He used to strike his girlfriend. He hurt her a few times," revealed Zaur Tsarnaev, who identified himself as a 26-year-old cousin, in a phone interview to Boston.com on Friday from Makhachkala.
"He was not a nice man. I don't like to speak about him. He caused problems for my family."
An amateur boxer, Tamerlan once belonged to a local boxing group called Team Lowell, won the Rocky Marciano Trophy for his efforts.
Article continues below advertisement
At one point, he trained to compete in the National Golden Gloves competition and practiced boxing at the Wai Kru MMA Gym in Boston.
"He was the best boxer in Boston," said owner John Allan, who remembered helping him accomplish a maturer boxer in a competition three years ago. "He smoked all the professionals."
6. Religious Conflict
While his younger brother barely ever visited a Mosque, Tamerlan recently became a Muslim who prayed five times a day, according to his aunt.
''He has a wife in Boston and from a Christian family, so you can't tie it to religion,'' Maret Tsarnaeva told reporters in Toronto, according to Boston.com().
''At that age all they want is love, so he found his love, he married, he had a daughter and he was very happy about his daughter.
Tamerlan wasn't a devout practicing Muslim, ''but just recently, maybe two years ago, he started praying five times a day,'' she explained.
Article continues below advertisement
7. Bad Influence Of Big Brother
As friends wonder how on earth their-soccer loving pal could become America's Most Wantedhttps://radaronline.com/exclusives/2013/04/boston-marathon-fbi-new-video-photos/, family members blame his older brother for leading him on a path of crime.
"Dzhokhar is a sweet boy, innocent. He was always smiling, friendly and happy," said cousin Zaur Tsarnaev, who said he warned the teenager about Tamerlan when he visited last summer.
"I don't know how he is involved in this… I used to warn Dzhokhar that Tamerlan was up to no good."
A fellow resident at the Pine Dale dorms at UMass agreed that it was impossible to believe he was involved in any zealous religious or political cause, or would turn to violence.
"I think he's Muslim, but not so religious," said senior Pamala Rolon. "He's a normal city kid. He never said anything about Russia versus the United States."