Terror At The Boston Marathon: 7 New Developments & Photo Released Of Chinese Grad Student Killed In Blast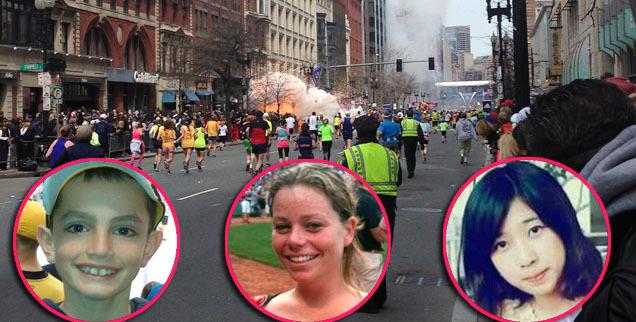 We've got all of Thursday's latest developments in the wake of Monday's horrific bombing at the Boston Marathon.
1. Latest Figures
Boston University has now confirmed the identity of the third victim of the deadly bombing as Lu Lingzi, a Chinese national who was a grad student with an eye on a career in finance. The Chinese Consulate General in New York said her family asked that no personal details be disclosed. In addition to the three people who died as result of the blast, 170 others were injured. As of Thursday, 14 people remain in critical condition, three of them children.
Article continues below advertisement
2. Search For Suspects
After a discussion with police, City Council President Stephen Murphy said a department store (reportedly Lord & Taylor) caught "a suspect on tape dropping a bag near the point of the second explosion and heading off."
Authorities speaking under conditions of anonymity told the AP that while investigators have an image of a possible suspect, they have not identified the person yet.
Massachusetts Gov. Deval Patrick preached patience to his populace, admitting while he's frustrated at the lack of an arrest, the case can't be closed without consummate police work.
"It's going to happen by doing the careful work that must be done in a thorough investigation," Patrick said. "That means going through the couple of blocks at the blast scene square inch by square inch and picking up pieces of evidence and following those trails, and that's going to take some time."
Article continues below advertisement
The FBI continues to appeal to the public for any audio, video or photos taken at the crime scene Monday.
3. City In Distress
National Guard troops continued to patrol the Boston Common, while authorities clad in white jumpsuits Wednesday combed the streets and rooftops near the epicenter of the bombing, scrutinizing every detail down to the trash for clues.
4. Commander-In-Chief
President Barack Obama on Thursday is slated to attend a "Healing Our City" memorial service for the three victims who died in Monday's blasts, Martin Richard,
Krystle Campbell and Lu Lingzi.
"We send our support and encouragement to people who never expected that they'd need it - the wounded civilians who are just beginning what will be, I'm sure for some of them, a long road to recovery," the president said Wednesday.
His challenger in last year's election, former Massachusetts Gov. Mitt Romney, is also expected to be there. Security will be extra high near the Roman Catholic cathedral, where the interfaith service will take place.
Article continues below advertisement
5. Capitalizing Off A Tragedy?
A proliferation of auctions selling finisher medals from the marathon have sprouted up on eBay, drawing more than $300 apiece in highly-competitive bidding wars.
The co-owner of the company that produces the medals, Ashworth Awards' Kim Ashworth told the Boston Globe she found the feverish sales "absolutely horrible," and doubted the integrity of how the medals were acquired in the first place.
"I don't know of any runners who would do that and sell their medals for a profit," Ashworth, who ran in the marathon Monday, told the paper. "I know several friends haven't gotten medals who were stopped at the 25-mile mark. A lot of people left the city or didn't want to go back to the site."
Officials from eBay said the online auctioneer prohibits listings that "graphically portray, glorify, or attempt to profit from human tragedy or suffering."
Article continues below advertisement
6. The Best In People
More than $7.5 million has been donated to The One Fund, the Red Cross-approved charity set up on Tuesday in the wake of Monday's bombing, officials said.
Insurance corporation John Hancock kicked things off with a $1 million donation.
Mayor Thomas M. Menino called the generosity "so heartening," adding he "would never have ­expected anything of this scope.
"People want to be part of this, to make sure Boston keeps moving forward."
Watch the video on RadarOnline.com
|
|
7. Healing On Ice
In the city's first major public gathering since the bombing, a sellout crowd of 17,565 amassed at the TD Garden to watch the Boston Bruins take on the Buffalo Sabres. Fans brought signs with inspirational slogans such as Believe in Boston, BOSTON, and Beacon Of Strength That Overcomes Negativity.
Boston winger Brad Marchand said he and his teammates were "were fighting back tears," throughout the night, and that "it was tough to stay focused on the game."
The Sabres eeked out a 3-2 victory in a shootout.
radar_embed service=5min.com src="http://pshared.5min.com/Scripts/PlayerSeed.js?sid=1126&width=570&height=351&playList=517747353&sequential=1&shuffle=0"