Boston Marathon Explosions: Suspect Being Detained At Hospital, 3 Dead, More Than 100 Injured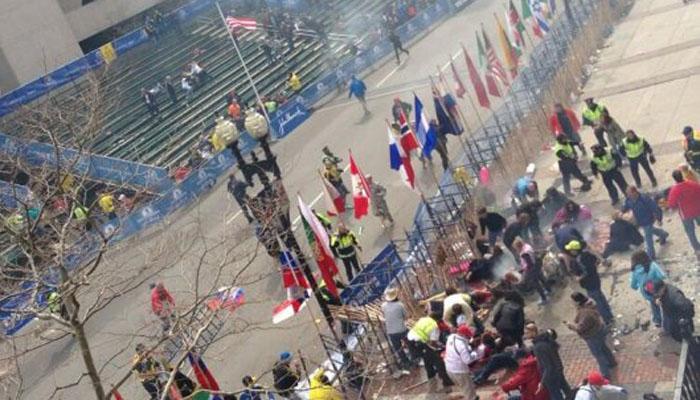 Three people are dead and at least 100 injured after after two powerful explosions went off near the Boston Marathon finish line, and authorities have now confirmed that they have a suspect who is currently being guarded in a Boston hospital with shrapnel wounds.
The New York Post reports the suspect is a Saudi national.
A pair of bombings rocked the finish line at the Boston Marathon on Monday afternoon around 2:45 p.m. ET and an eyewitness told the Boston Globe there was blood everywhere at the scene, on Boylston Street. President Obama has been notified of the situation and directed his administration to provide whatever assistance is necessary, according to a White House spokesperson.
Article continues below advertisement
ABC News reports smoke and material at the scene are being tested for chemical substances and federal sources tell CNN the explosion was a "well planned" attack.
The explosion at the finish line is even more shocking because the families of the Newton, Conn. Sandy Hook Elementary School shooting were being recognized at the marathon because the race is 26.2 miles in distance and 26 people died during the tragic massacre, and they were at the 26th mile marker where 26 stars hung for each of the dead.
During a press conference Ed Davis of the Boston Police Department confirmed a third incident saying, "There was an explosion that occurred at the JFK Library," but said authorities are unclear if the explosions are related.
CNN reports that three other bombs have been safely detonated by authorities and they think a fourth may have been found.
There are multiple casualties, Fox News reported via the Boston Herald. "Video of the scene showed a number of emergency crews in the area tending to victims and blood on the ground near the finish line," according to the report.
Article continues below advertisement
A Globe reporter also said he spoke to someone who helped a woman whose leg had been severed and news agencies are reporting that more than 8 people hurt in the explosion had limbs amputated.
The blast was so strong that workers blocks away say they felt the blasts.
Authorities have set up hotlines for people trying to find their friends and family, and a separate number for individuals who may have seen anything or have information about the bombing.
Several celebrities were participating in the race, including Joey McIntyre of New Kids on The Block, Summer Sander, the Olympic gold-medal swimmer, and former winners Greg Meyer and Joan Benoit Samuelson, a 1984 Olympic marathon gold medal winner.
McIntyre Tweeted: "There was an explosion by the finish line about 5 minutes after I finished--I'm ok but I'm sure there are many hurt."
Another press conference is scheduled for 7 p.m. ET.