Boston Marathon Bombing: Suspects' Father Calls His At-Large Son An 'Angel,' Uncle Expresses Horror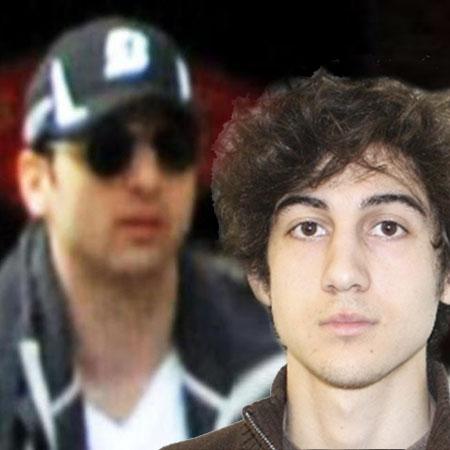 Family members of the suspects in the Boston Marathon bombing have spoken with the media in the wake of the men -- brothers Dzhokhar and Tamerlan Tsarnaev -- being publicly identified as potential terrorists.
While Tamerlan, 26, died following a shootout with cops, Dzhokhar, 19, remains on the loose, and the city of Boston has been virtually shut down as the manhunt continues.
The father, Anzor Tsarnaev, told the AP Friday that younger son Dzhokhar is "a true angel" with great smarts and big ambitions.
Article continues below advertisement
"Dzhokhar is a second-year medical student in the U.S. He is such an intelligent boy," Anzor, who went back to Russia because of health issues, told the AP. "We expected him to come on holidays here."
While Anzor claimed his children would never commit such a crime, he is urging his son to turn himself to investigators, ABC News reported.
The father warned, however, "If they killed him, then all hell would break loose.
"If they kill my second child, I will know that it is an inside job, a hit job. The police are to blame," he told ABC News. "Someone, some organization is out to get them."
Their uncle, Ruslan Tzami, had less kind sentiments for his nephews.
"This is terrible. I have no sympathy for them. I hate them -- they murdered people!" Tzami, who lives in Montgomery Village, Md., told People. "These are my nephews! My brother's sons!"
Article continues below advertisement
Tzami said the brothers -- who lived on Norfolk Street in Cambridge, Mass. -- came here from Tyrgistan in 2001, in the wake of an Islamic insurgency following the separatist wars.
Tzami confirmed that Dzhokhar "wanted to be a doctor."
"It's a big family ... the parents are still in Russia," Tzami said. "They are from a hard-working family who ran away from Chechnya. A good family."
The family has people scattered all over the country, including two sisters, according to ABC News.
More on the brothers:
Dzhokhar has a Massachusetts drivers license; officials said he's driving a Gray Honda with the license plate, 316ES9. He has a page on a Russian Facebook-like site Vkontakte, in which he writes his priorities are "career and money."
Tamerlan, who was married, had a 3-year-old daughter named Zahara. Tamerlan was an aspiring engineer who attended Bunker Hill Community College. He was arrested in connection with domestic violence in July 2009 linked to an assault on his girlfriend, the website spotcrime.com reported. An amateur boxer, Tamerlan once belonged to a local boxing group called Team Lowell, won the Rocky Marciano Trophy for his efforts, and at one point, trained to compete in the National Golden Gloves competition.
In an online photo essay he made called Will Box for Passport, he wrote, "I don't have a single American friend, I don't understand them."
As we previously reported, officials Thursday identified the brothers as the suspects in the bombing that left three people dead and more than 130 people injured, some suffering the amputation of limbs.
On Thursday, the men shot at two officials, police said, as they killed a Massachusetts Institute of Technology police officer, and left a transit officer in serious condition at a local hospital.