Wanted: FBI Releases Video, Photos Of 2 Suspects In Boston Bombing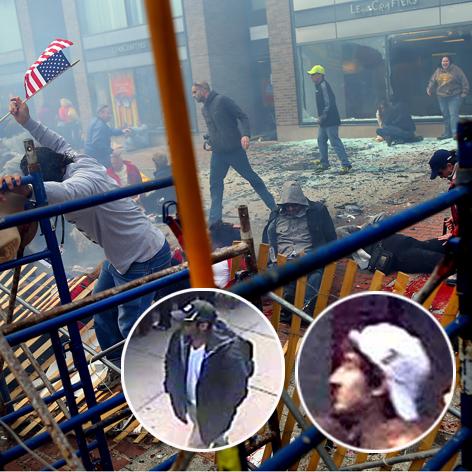 The FBI released images of the two suspects wanted in connection with the Boston Marathon bombings, but warned the public the men are considered "armed and extremely dangerous."
"No one should approach them or attempt to apprehend them except law enforcement. Do not attempt action on your own," Federal Bureau of Investigation special agent Richard DesLauriers told a jammed media conference late on Thursday afternoon.
Article continues below advertisement
The pair, he said, "appear to be associated" but did not elaborate further.
The two suspects -- one in a black baseball cap with white trim on sides and the other in a white cap worn back on front -- were captured on surveillance cameras in Boylston Street where the marathon ended.
"Suspect two set down a backpack at the site of the second explosion, just in front of The Forum restaurant," DesLauriers said.
"We strongly encourage those who were at the The Forum restaurant who have not contacted us yet to do so."
"Suspects one and two appear to be walking together through the marathon crowd on Boylston Street in the direction of the finish line."
No claim of responsibility and no arrests have been made in connection with the twin bombings that are the worst attack in the United States since the September 11, 2001 atrocities.
Article continues below advertisement
DesLauriers asked the public to call a hotline, 1-800-CALL-FBI, with tips or visit the bureau's website, .
"We know the public will play a critical roll in identifying these suspects and bringing them to justice," he added, pleading for help even if it means turning in friends, neighbors, coworkers or family members.
"No bit of information no matter how small or inconsequential is too small for us to see.
"The horror of that day will remain with us forever."
The blasts on Monday killed three people and left 170 injured.