From A Cowboy To An NFL Star, Meet The Heroes Of The Boston Marathon Bombing Aftermath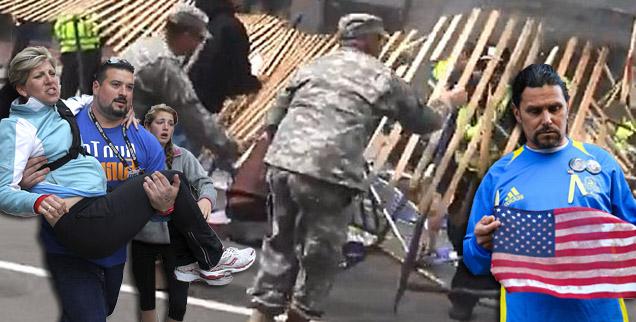 Heartwarming stories of heroism and sacrifice are rising from the pain and destruction of the aftermath of the Boston Marathon bombing.
"Bostonians don't love easy things, they love hard things — blizzards, the bleachers in Fenway Park, a good brawl over a contested parking space," wrote Mystic River author Dennis Lehane in a column after Monday's attack, telling readers that the bomber "messed with the wrong city."
Article continues below advertisement
Add the resilience and strength of marathon-runners - who are taught to dig deep and push through the pain one mile at a time – and you get people in the immediate aftermath who were determined to help everyone around them no matter what it took, and RadarOnline.com is now honoring their bravery.
Wearing a cowboy hat over his shaggy hair, Carlos Arredondo has become one of the iconic faces of strength in the wake of adversity as he was captured on film fighting through the barriers to help a man whose injuries were so severe that he later had a double amputation.
Arredondo was at the marathon to support Tough Ruckers (military members who run in full military gear to honor fallen comrades) after losing both his son, Alex, in Iraq in 2004, and then his other son, Brian to suicide. The loving father couldn't save his children, but he did rescue 27-year-old Jeff Bauman.
"I just concentrated on that young man and tied him up, his legs, and talked to him," said a trembling Arredondo in a video posted on YouTube, explaining how he made a tourniquet to slow the blood loss from the man's severed artery. "He was conscious. I let him know the ambulance is on the way, that it's OK."
Article continues below advertisement
A group of 15 active-duty soldiers from the Massachusetts National Guard were already carrying heavy loads running in full combat uniform with a "ruck," a military backpack weighing about 40 pounds, on their backs before they got catapulted into a war zone. Having started the race at 5:20 am, they were gathered in the medical tent behind the finish line when the bombs went off and immediately went into tactical mode.
"We just absolutely annihilated the fence and pulled it back so we could see the victims underneath. The doctors and nurses from the medical tent were on the scene in under a minute," revealed Lieutenant Stephen Fiola of the 1060th Transportation Company, according to MotherJones.com. "We were pulling burning debris off of people so that the medical personnel could get to them and begin triage."
Once the victims were transported for medical care, the soldiers stood guard around the blast area to keep the scene safe and prevent people from entering, "helping the nurses get to the wounded and helping calm people down," said Fiola.
Article continues below advertisement
From his spot 25 yards from the finish line, Dr. Vivek Shah thought fireworks had gone off when he first saw sparks flying through the air, until he realized all the spectators and fans were running away from him.
Instead of fleeing, he headed toward the devastation and what he discovered on the sidewalk was beyond anything he's seen as an orthopedic surgeon. "It's nothing that you can ever describe," he told CNN.com "In all of my medical training, I've never seen anything like the amount of trauma."
By the time he reached the wounded, he was surrounded by medical professionals desperate to help. "I've never seen anything like it in terms of the quickness of the response to that tragedy," he revealed, and within the first 15 minutes, 15 patients were at Brigham and Women's Hospital trauma center and seven operating rooms were immediately cleared for the nine patients needing surgery.
New England Patriots player Joe Andruzzi was already a hero to football fans for his actions both on and off the field long before the bombs went off. The burly linebacker and survivor of non-Hodgkin's Burkitt's lymphoma runs a foundation that helps children with brain cancer and had a group of runners in the marathon raising money for much-needed medical treatment. He was cheering them when their world turned upside down.
Article continues below advertisement
Despite being pictured carrying a wounded woman in his arms to safety as she clung to his beefy neck, the NFL star tried to play down his heroism, instead asking people to thank the "first responders, medics, EMTs, runners who crossed the finish line and kept on running straight to give blood, and the countless civilians who did whatever they could to save lives," he said in a statement on Monday. "They were the true heroes. Our thoughts and prayers go out to all those affected by this senseless tragedy."
Andruzzi is no stranger to bravery, having three brothers who are New York City firefighters and were on the scene at the World Trade Center during 9/11, and fortunately survived.
Like the Unknown Solider, the identity of one hero from the marathon remains a mystery. A Northeastern University student seriously wounded by shrapnel from the first blast was saved by a man she knows only as Tyler, and now with the help of Massachusetts Gov. Deval Patrick she is anxiously trying to find him to thank him.
Victoria was scared and hysterical when a firefighter, who described himself as an Army sergeant, jumped into help and carried her to the medical tent near the finish line. "One of things he said to her to calm her down was to show her his own shrapnel wound or scar from ... when he was in Afghanistan," said Patrick in a news conference, as he asked Tyler to call his office at 617-725-4000 so Victoria can thank him in person.