Boston Manhunt Over: Suspect #2 Captured Alive After Gunfight With Police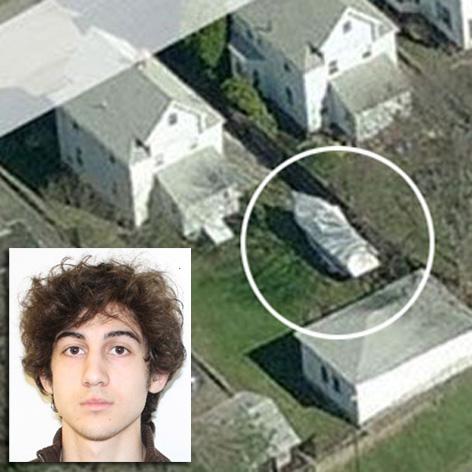 The most wanted man in America, Dzhokar Tsarnaev, has been captured alive after surviving a massive gunfight with police, it's been confirmed.
The chief suspect in Monday's twin bombings, which left three dead and more than 170 injured, was peppered with a volley of bullets as he sheltered on a boat in the backyard of a Boston suburb.
Gunshots were heard just before 7:10 p.m. EDT before emergency and military vehicles were seen racing through Watertown, a town about eight miles from the center of Boston.
Article continues below advertisement
"We heard a volley of gunfire coming from armed units... with an increased presence of police helicopters," one local resident told WCVB-TV.
"All of a sudden one of the state police waved us off and then I saw the SWAT team come up from behind," another witness, Paul Sutherland, told WCVB-TV.
"As they passed me, we heard the rapid gunfire. 15 to 20 shots. I yelled to my friend, 'This is going down right now.'"
A local reporter for the station, who was on the scene, said up to 21 shots could be heard from a nearby street.
"It was rapid and there was a lot of gunfire," Kathy Curran said on-air.
Soon after engaging the suspect, Boston Police Commissioner Ed Davis arrived at the scene and was seen entering the backyard of the home.
About 7.52 p.m. EDT, eight popping sounds were heard coming from the backyard.
Soon after, a hostage rescue team was called to the scene after police flying above in a State Police chopper saw the suspect sit up inside the shrink wrapped boat, the Boston Globe reported.
Article continues below advertisement
Officers were said to be acting with caution because they remained concerned that the suspect might have been wearing a suicide bomb vest.
Cops also reported citing a large amount of blood near the suspect.
Then, around 8.42 p.m. EDT, police were heard on internal scanners confirming the suspect had been captured.
At 8.43 p.m. EDT, the Boston Police Dept. tweeted the staggering development to the world: "Suspect in custody. Officers sweeping the area. Stand by for further info."
Applause was heard coming from the standoff scene and police were seen shaking hands with each other.
He was taken to Mount Auburn Hospital in Cambridge.
The alarm was raised after someone called 911 because they'd spotted a ladder next to the boat that hadn't previously been there.
Tsarnaev escaped an overnight shootout with police in Watertown that left his older brother Tamerlan Tsarnaev -- the other man wanted in the bombings -- dead.
Just minutes before the major breakthrough, police admitted the marathon bombing suspect was still on the run after an all-day, door-to-door search.
At the time, they lifted the unprecedented Boston lockdown.