Amanda Bynes Strolls NYC Streets With Suspicious Looking Cigarette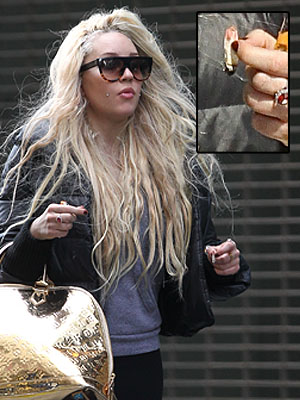 Amanda Bynes is adamant that she is just fine, thank you very much, and in these new pictures obtained by RadarOnline.com she is strolling down the streets of New York looking disheveled and puffing on a suspicious looking cigarette.
Amanda, 27, was wearing a black puffy jacket and black leggings while she held on to her cigarette in the same way another person might hold a joint. Her hair was back to blonde on Monday, looking long, straggly and unkempt.
Article continues below advertisement
The What a Girl Wants star has sent a series of troublesome Tweets lately, on topics like her eating disorder to a sexually explicit message to the rapper Drake.
Her increasingly bizarre behavior has centered around her hair color, with photographs showing her with red hair, but Amanda denying on Twitter that she does have red hair and saying there is someone "posing" as her.
Amanda's most recent missive is slamming a report that she was asked to leave an adult gymnastics class after muttering to herself and bursting into tears.
"I'm suing every blog saying I was kicked out of gymnastics. What is wrong w/ u people? What would u do if u found fake stories about u?" she wrote.