Has Amanda Lost It? Bynes Claims Someone Is 'Posing' As Her!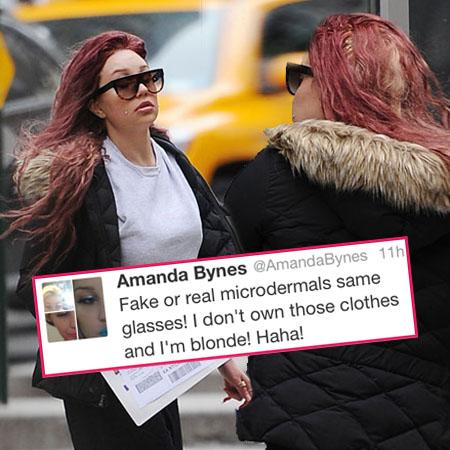 Will the real Amanda Bynes please stand up?
The actress is continuing her recent spate of bizarre behavior -- claiming she has a fake twin out there who is "posing" as her -- but RadarOnline.com has photos that seem to refute her crazy claim.
The troubled starlet, who turns 27 Wednesday, was snapped in New York City recently with shocking red hair, cheek piercings and glasses Tuesday but she took to Twitter late Tuesday night to rant that it wasn't actually her in the pictures!
Article continues below advertisement
"Fake or real microdermals same glasses! I don't own those clothes and I'm blonde! Haha!" Amanda tweeted.
"My hair is blonde I've never been a redhead! Somebody keeps posing as me! Check my photos on twitter for up to date pictures!" She wrote later.
Bynes did then post pictures claiming she has blonde hair -- but is she telling the truth?
By Wednesday morning Amanda had deleted the tweets, but was still sharing her thoughts like "Rawr" and "It's all about me on twitter."