Back To Blonde? Amanda Bynes Lightens Her Hair But Still Crazy Tweeting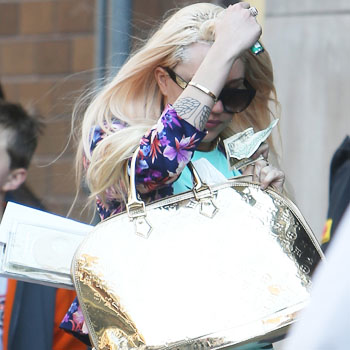 Amanda Bynes ranted that she isn't a redhead and made the shocking claim that she has a person out there "posing" as her and RadarOnline.com has the photos of her on the streets of New York City with partially blonde hair.
The troubled 27-year-old starlet's hair is straggly and blonde with some red highlights, perhaps left over from the red hair she sported this week.
"My hair is blonde I've never been a redhead! Somebody keeps posing as me! Check my photos on twitter for up to date pictures!" Amanda claimed on Twitter earlier in the week, but promptly deleted that and another Tweet that read: "Fake or real microdermals same glasses! I don't own those clothes and I'm blonde! Haha!"
Article continues below advertisement
In the photos Amanda is trying to shield her face from the photographer with a giant purse.
Her bizarre behavior continued as she claimed that she has an eating disorder, which keeps her from gaining weight and then writing about journalists who cover her actions.
"I'm putting a photo up of everyone writing articles about me from now on. I ask you to choose photos from my twitter so I'll do the same."