Miley Cyrus Goes Into Fits Of Giggles Smoking Suspicious-Looking Cigarette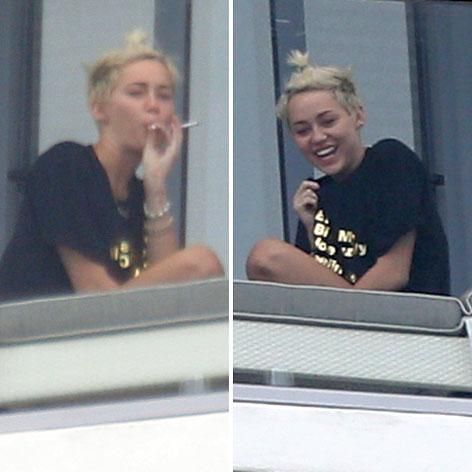 Miley Cyrus has again been photographed inhaling and puffing smoke into the air from a suspicious-looking hand-rolled cigarette.
The pictures were taken in February when the pixie-haired singer was sitting on a balcony outside of her hotel room in Miami.
Holding the cigarette between her thumb and forefinger, Miley can be repeatedly seen inhaling deeply.
She later donned a black cap and over-sized sunglasses as she continued to enjoy her smoking break.
Article continues below advertisement
Miley was not wearing her engagement ring from Liam Hemsworth when the pics were snapped. But she seemed to be quite happy anyway.
Miley has been frequently caught up in marijuana-related incidents, and her latest professional collaboration is continuing to stoke those flames.
She's on Snoop Lion's new album in a song called Ashtrays and Heartbreaks.
"Now my buzz is gone and I need to re-up on reality," Miley sings on the track.