Disturbing Insight Into A Mass Murderer - Arizona Shooter Documents Detail Drugs, Mental Illness, Guns & Mind Control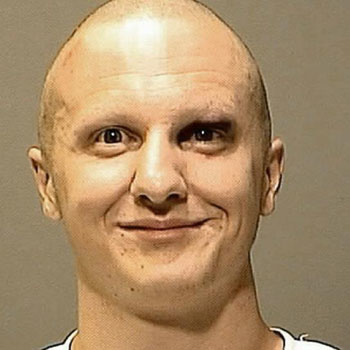 Thousands of previously sealed police records have been released giving a disturbing look into the mind of Tuscon shooter, Jared Lee Loughner - and RadarOnline.com has all the details..
As previously reported, the crazed killer went on a murderous rampage outside an Arizona supermarket killing six people and wounding 13 others including former Rep. Gabrielle Giffords in January 2011.
Now 3,000 documents have been released in which his own mother, Amy Loughner talks in detail about her son, his psychological issues and her fears he was taking meth.
Article continues below advertisement
"Sometimes you'd hear him in his room, like, having conversations," she said in an interview with a detective. "And sometimes he would look like he was having a conversation with someone right there. Be talking to someone. I don't know how to explain it. I don't."
Mrs. Loughner said Jared began acting strangely one year before the shocking massacre and she and her husband Randy were concerned he was back on drugs having had a past history with cocaine and pot.
"We drug tested him. My concern was like meth or something because his behavior was odd," she said.
They began disabling Loughner's car so he couldn't go out and even pleaded with him to seek psychological help shortly before the shooting rampage.
The documents also reveal how Mrs. Loughner took away her son's shotgun at the request of officials at Pima Community College, where he was a student at the time.
Article continues below advertisement
"They recommended if there's any firearms in the house that we should, you know put them away," she told police, recalling a conversation she had with employees after he was removed from the school for making disturbing comments about abortion to fellow classmates.
"Did they say, he was a danger to himself? Or he is a danger to others?" a detective asked.
"I think they said both," Amy responded.
Loughner's former friend, Zachary Osler told investigators he was uncomfortable being around his one time buddy too.
"He would say he could dream and then control what he was doing while he was dreaming," he said.
Loughner, now, 23, was sentenced in November to seven consecutive life sentences plus 140 years in prison.
As RadarOnline.com previously reported, he pleaded guilty, allowing him to avoid the possibility of a death sentence.
The documents were previously sealed to allow him a fair trial.