EXCLUSIVE DOCUMENTS & DETAILS: Alleged Arizona Shooter Jared Loughner's Federal Mug Shot: The Loophole For Release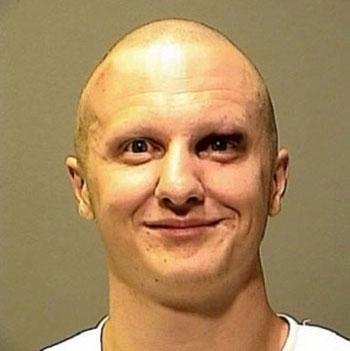 Another legal fight is brewing in the case of alleged Arizona shooter Jared Lee Loughner who is accused of killing six people and the attempted assignation of Congresswoman Gabrielle Giffords and it's all over the release of his Federal mug shots, RadarOnline.com has exclusively learned.
In court documents filed with the United States District Court, District of Arizona, the U.S. Attorney's Office, as well as Loughner's attorney Judy Clarke oppose the release of Loughner's Federal mug shots despite over one dozen requests by the media to do so citing the Freedom of Information Act (FOIA).
Article continues below advertisement
EXCLUSIVE COURT DOCUMENTS: Jared Loughner Motions To Bar Release of Mugshots
In January, the Pima County Sheriff's Department released one booking photo of Loughner to the public, taken while he was in their custody – depicting Loughner with a shaved head and an eerie grin on his face.
But Loughner was later turned over to the United States Marshals, where two additional booking photos were taken of him – one profile shot and one front shot.
According to court documents, these photos "show Mr. Loughner in sharper resolution with abrasions on his face, and in prison garb, with a cinder block wall in the background."
Officially, it is standard practice for the U.S. Marshals Service to refrain from releasing booking photos, but because of a legal loophole, they are seeking a judge's order prohibiting those photos from being made public.
But thanks to a previous ruling by the U.S. Court of Appeals for the 6th Circuit in a case brought by the Detroit Free Press vs. Department of Justice – the ruling in that case may provide the loophole they need. The court ruled mug shots had to be released when there is no privacy interest at stake.
Article continues below advertisement
Currently, there are 15 media outlets requesting the mug shots - four of those outlets fall within the 6th Circuit's jurisdiction, making the release of those mug shots a possibility.
Despite the ongoing hurdles surrounding this case, the United States Attorney's Office and Judy Clarke, Loughner's attorney, agree on one thing – they don't want the mug shots released to the public and they want them to remain under seal.
In a motion objecting a release of the mug shot, Loughner's attorney states, "first, a mug shot is associated with guilt, an association which prevails regardless of the outcome of the case....Second, a mug shot is humiliating. It captures an individual usually unflattering expression at a humiliating moment. Third, a mug shot has a long-term stigmatizing effect. The effect remains even after a sentence has been served."