Sarah Palin Had Congresswoman Giffords On Her Controversial 'Crosshairs Map'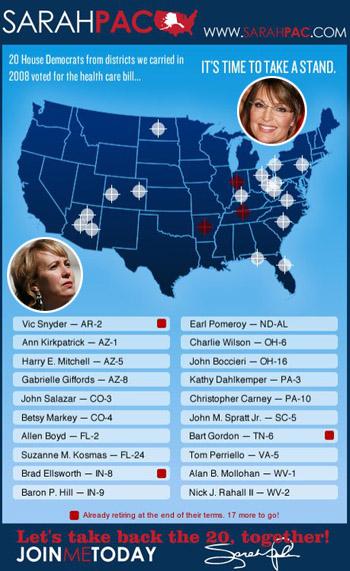 Congresswoman Gabrielle Giffords was on Sarah Palin's infamous "crosshairs map," listing all the Representatives the former VP candidate wanted defeated in the midterm elections, RadarOnline.com can report.
The map created a firestorm because it had what appeared to be targets placed over the Congressional districts involved, and a list of the Representatives, including Giffords.
The map was initially posted by Palin's political action committee (PAC) which has since taken it down. It is still active on Palin's Facebook page.
Article continues below advertisement
At the time of its creation, the "target map" caused a huge uproar.
"Sarah Palin has now placed gun sights on 20 members of Congress who supported reform," Democratic National Committee chairman Tim Kaine said at the time.
On Saturday Palin put out a brief statement sending her condolences to the families of all those injured in the shooting that critically injured Giffords. She sustained a gunshot wound to the head.