Congresswoman Gabrielle Giffords Shot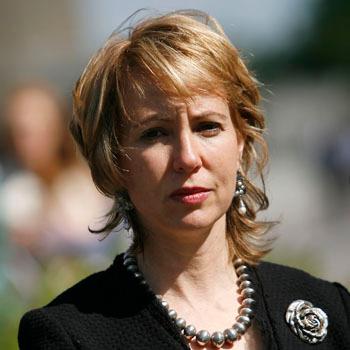 A state of shock exists in Tucson, Arizona where Congresswoman Gabrielle Giffords has been shot and is now fighting for her life, RadarOnline.com can report.
The Congresswoman and at least 11 others were killed or wounded at the shooting that took place outside a Safeway supermarket, where Giffords was holding a well-publicized meeting with her constituents.
She was shot "point blank in the head," reports the Tucscon Citizen.
Article continues below advertisement
Eyewitness Dr. Steven Rayle told The New York Times the gunman approached the Congresswoman from behind, took out his gun, held it only a foot from Giffords' head and fired.
He got off another 20 or so rounds before being wrestled to the ground.
The Congresswoman was rushed to Tucson's University Medical Center. She had surgery for a gunshot wound to the head and is listed as being in a critical condition, although the hospital said her outlook was "optimistic" and that she was responding to commands from doctors.
The gunman has reportedly been taken into custody.
Officials said a 9-year-old child was among the killed, and a U.S. Marshal said a federal judge was also fatally shot in the attack.
Others wounded included some of Gifford's aides who were with her at the time.
The Congresswoman, a Democrat, is married to astronaut Mark E. Kelly.
UPDATES:
UPDATE 3.10 PT -- Associated Press, citing law enforcement sources, reports the suspect has admitted he acted alone.
Article continues below advertisement
UPDATE 2:59 PM PT -- A photo from the shooting suspect Jared Loughner's former MySpace Page shows what appears to be a Glock 9mm handgun atop a U.S. history textbook, according to The Smoking Gun website. Loughner was arrested upon arrival at the murder scene by the local sheriff's department.
UPDATE 2:49 PT -- CBS News reporting an official says the gun recovered at the scene is a 9mm Glock pistol.
UPDATE 2:43 PM PT -- The White House has released this image of President Barack Obama taking part in a conference call in the Situation Room concerning the shooting of Giffords and others.
Official White House Photo by Pete Souza
Pictured, left to right, National Security Advisor Tom Donilon, incoming Chief of Staff Bill Daley, Deputy Chief of Staff Jim Messina, Director of Communications Dan Pfeiffer, and Assistant to the President for Legislative Affairs Phil Schiliro.
Also taking part in the call were Attorney General Eric H. Holder, Jr., Homeland Security Secretary Janet Napolitano, and FBI Director Robert Mueller.
UPDATE 2:22 PM PT -- President Obama: 'Unspeakable Tragedy'
Video of Obama's remarks, speaking from the White House and under a portrait of former President Abraham Lincoln, who was assassinated on April 14, 1865.
UPDATE 2:09 PM PT: Jan Brewer, the governor of Arizona, said she was "shocked and deeply saddened" at the shootings and added she was "just heartbroken" about the attack on Giffords.
"I am just heartbroken. Gabby is more than just a colleague. She is actually a friend... She was a genuine nice, kind, hard-working servant for the people of District 8. She never really played partisan politics. She was always concerned with what was good for her district. She was -- and is -- a very gracious public servant."
UPDATE 2.09 PT -- President Barack Obama's statement:
"This morning, in an unspeakable tragedy, a number of Americans were shot in Tucson, Arizona, at a constituent meeting with Congresswoman Gabrielle Giffords. And while we are continuing to receive information, we know that some have passed away, and that Representative Giffords is gravely wounded. We do not yet have all the answers. What we do know is that such a senseless and terrible act of violence has no place in a free society. I ask all Americans to join me and Michelle in keeping Representative Giffords, the victims of this tragedy, and their families in our prayers."
UPDATE 1.34PM PT -- John Roll, the judge who was murdered in Arizona today, received threats before, according to the Huffington Post.
UPDATE: 1.28 PM PT -- Arizona Senator John McCain's statement: "I am horrified by the violent attack on Representative Gabrielle Giffords and many other innocent people by a wicked person who has no sense of justice or compassion. I pray for Gabby and the other victims, and for the repose of the souls of the dead and comfort for their families. I beg our loving Creator to spare the lives of those who are still alive, heal them in body and spirit, and return them to their loved ones. Whoever did this; whatever their reason, they are a disgrace to Arizona, this country and the human race, and they deserve and will receive the contempt of all decent people and the strongest punishment of the law."
UPDATE 1.03 PM PT -- A surgeon is "very optimistic" about Rep. Giffords. He adds that she was shot in the head "through and through." "We cannot tell what kind of recovery but I'm about as optimistic as it can get in this situation."
UPDATE 12.47 PM PT -- It's been reported the judge who was killed at today's shooting was John Roll.
RELATED STORIES:
EXCLUSIVE: Congresswoman Mary Bono In Photo Scandal
Bristol Palin Buys Home In Arizona
EXCLUSIVE: Crucial Cameras 'Disabled' At Intersection Where Hollywood Publicist Murdered