Exclusive
EXCLUSIVE: Sonny Bono's Widow - Rep. Mary Bono - In Lurid Photo Scandal With Woman Investigated By FBI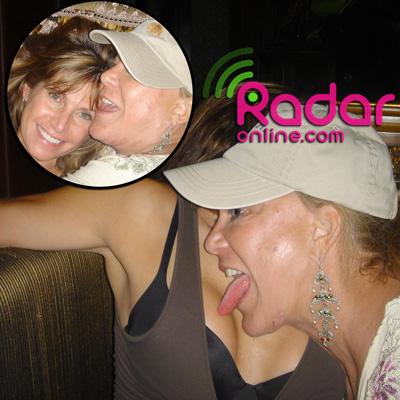 Article continues below advertisement
Bono, 49, is a Republican lawmaker representing California's 45th congressional district and sits on the Committee on Energy and Commerce.
She is the widow of Sonny Bono and has been in Congress since 1998.
The woman apparently licking Bono's breast is Edra Blixseth, a disgraced former billionaire who is at the center of a criminal investigation probing whether she made fraudulent representations about her financial worth to a number of banks.
In a scandal set to rock Capitol Hill, RadarOnline.com has learned the image was taken at an out-of-control event four-years-ago, at Blixseth's $75 million Porcupine Creek estate in Rancho Mirage, California.
With her head thrown back, Bono's plunging bra is exposed as Blixseth -- who now dates Dallas actor Jack Scalia after splitting from her husband Tim in 2008 -- is seen diving into the politician's cleavage with her tongue out.
Article continues below advertisement
"Mary was partying hard," one source, who was at the event, told RadarOnline.com. "She was blitzed and clearly having a great time."
Repeated phone calls to Bono for comment were not returned.
Blixseth donated $1,500 to Bono's 2006 congressional campaign and even served as a finance committee member. She was also once a top Republican Party donor.
However, during that same period, the riches of Blixseth and ex-husband Tim, a wealthy timber tycoon, were starting to unravel.
The pair was sued by jilted investors of the couple's elite Yellowstone Club World, a millionaires-only private ski and golf resort in Montana, whose members included Microsoft founder Bill Gates.
The Blixseth's were accused of borrowing $375 million from Credit Suisse Group but took $209 million for themselves as a dividend; Edra reportedly settled two years later for $39.5 million, but only paid $8 million.
Article continues below advertisement
One of those filing the lawsuit was Tour-De-France champion Greg LeMonde.
ON YOUR RADAR: The Nicest & Naughtiest Stars Of 2010!
Now Edra is bankrupt, but Montana tax officials are seeking $57 million in back taxes they say the Blixseths owe from the whopping $375 million loan they took out for Yellowstone.
But due to Edra's bankruptcy, officials want to go after her ex-husband's assets to cover the debt.
Article continues below advertisement
The images shocked Bono's 2008 political opponent, Julie Bornstein, who did not leak the images to RadarOnline.com. But Bornstein said Bono's clearly outrageous behavior came as no surprise.
Former VP Al Gore Will Not Be Prosecuted For Sexual Assault
"Several women in the California Congressional delegation were embarrassed repeatedly by Mary Bono's behavior and conduct in the Capitol and encouraged me to run because of the embarrassment she brought to the legislature," she told RadarOnline.com after the photographs were described to her.
"I am not surprised that these pictures exist. She has often spoken about going out with her girlfriends and drinking... she has been known as a strenuous partier."
Bornstein said she knew Bono was "very close" to Blixseth and that the latter hosted several major fundraisers for her.
"I believe they are close personal friends," she said.
VIDEO: Rielle Hunter Breaks Silence On John Edwards Affair
When asked if she thought Bono was a good representative for the people of her congressional district, the one-time candidate said: "No, I don't, that's why I ran against her."