Exclusive
EXCLUSIVE: Son Of Wikileaks Assange Speaks Out, Wants Father 'Treated Fairly & Apolitically'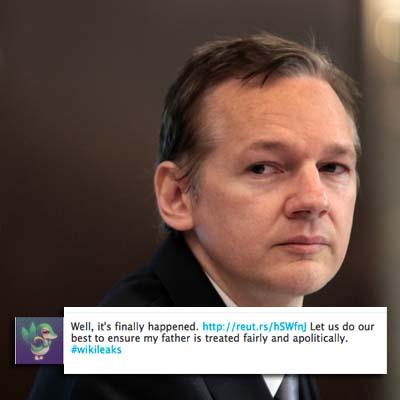 The son of Julian Assange is speaking out about his father's arrest, telling the world he hopes his father is "treated fairly and apolitically," RadarOnline.com has learned.
Daniel Assange admits he hasn't seen his dad in years but as Julian has now been arrested in London after shaking up world governments with by releasing embarrassing secret documents, Daniel used his Twitter account to break his silence.
Article continues below advertisement
Inside The WikiLeaks Scandal: Who Is Julian Assange?
Julian was arrested on sex charges stemming from a Swedish investigation. But his Wikileaks site made him the focus of world governments with its recent publication of documents detailing spying and questionable activity by many countries.
"Well, it's finally happened. Let us do our best to ensure my father is treated fairly and apolitically," Daniel Tweeted after his father's arrest.
He also said: "I'm hoping this isn't just an intermediary step towards his extradition to the US."
"I can't see how they can possibly convict him of anything in a fair trial.
"I haven't been in contact with him in the past few years."
He also makes the point that if his father is facing action over the leaked documents, "then every single news outlet that has republished the cables or derivatives thereof is equally culpable."